Explore the City of Lakes with Convenient Airport Transportation in Udaipur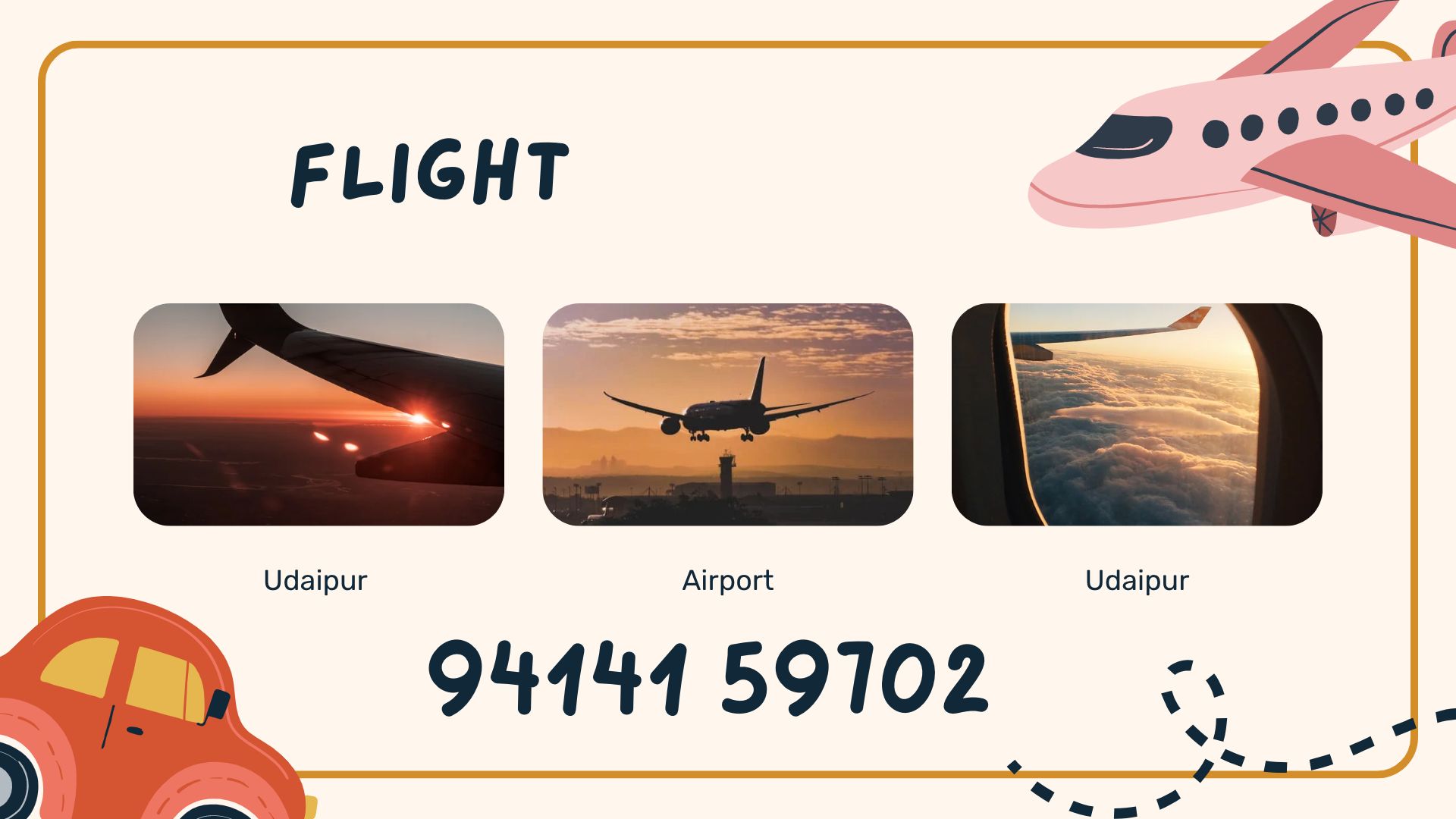 Udaipur Airport - Maharana Pratap Airport
Introduction to Udaipur Airport
Udaipur Airport is a domestic airport in Udaipur, Rajasthan, India, about 22 kilometers from the city center. It gives entrance to the favored tourist destination of Udaipur, also called the "City of Lakes" and the "Venice of the East." Udaipur is known for its stunning palaces, lakes, and cultural heritage, attracting visitors from around the globe. Udaipur Airport has become busier in recent years due to more domestic airlines operating flights to and from the city. It is a modern and well-equipped airport with amenities to ensure a comfortable travel experience for passengers. This blog will provide information on the airport, transportation options, and popular tourist attractions in and around Udaipur, serving as a comprehensive travel guide for the city.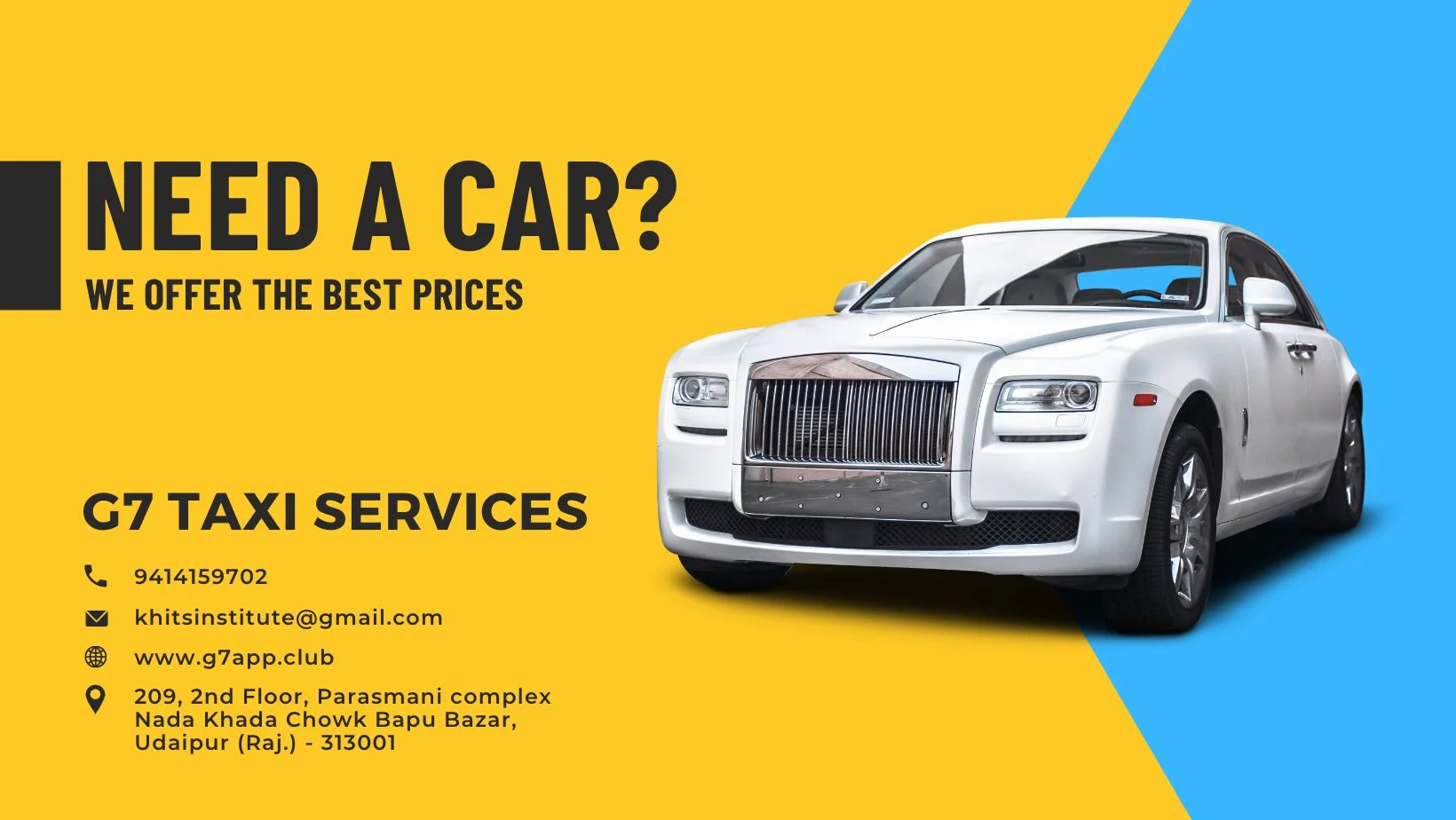 Udaipur Airport Code and Names
If you are not familiar with the names of Udaipur Airport, as a visitor you should know them. Maharana Pratap Airport is the official name of this airport. Maharana Pratap was a brave king from the Rajput dynasty. Commonly, people also call it Dabok Airport because of the town's name. This airport has its own codes for identification such as the IATA code UDR and the ICAO code VAUD.
Location of Udaipur Airport
To explore the Udaipur Airport, we are providing you with some details so it will be more painless for you to locate it. It is in the east of the downtown, and around 22 kilometers or 13.6 miles away. These are the coordinates of this airport 24°37′58″N 073°53′34″E. And if you are outside of Udaipur, explore Dabok town. You can likewise see it on Google Maps, click here for directions.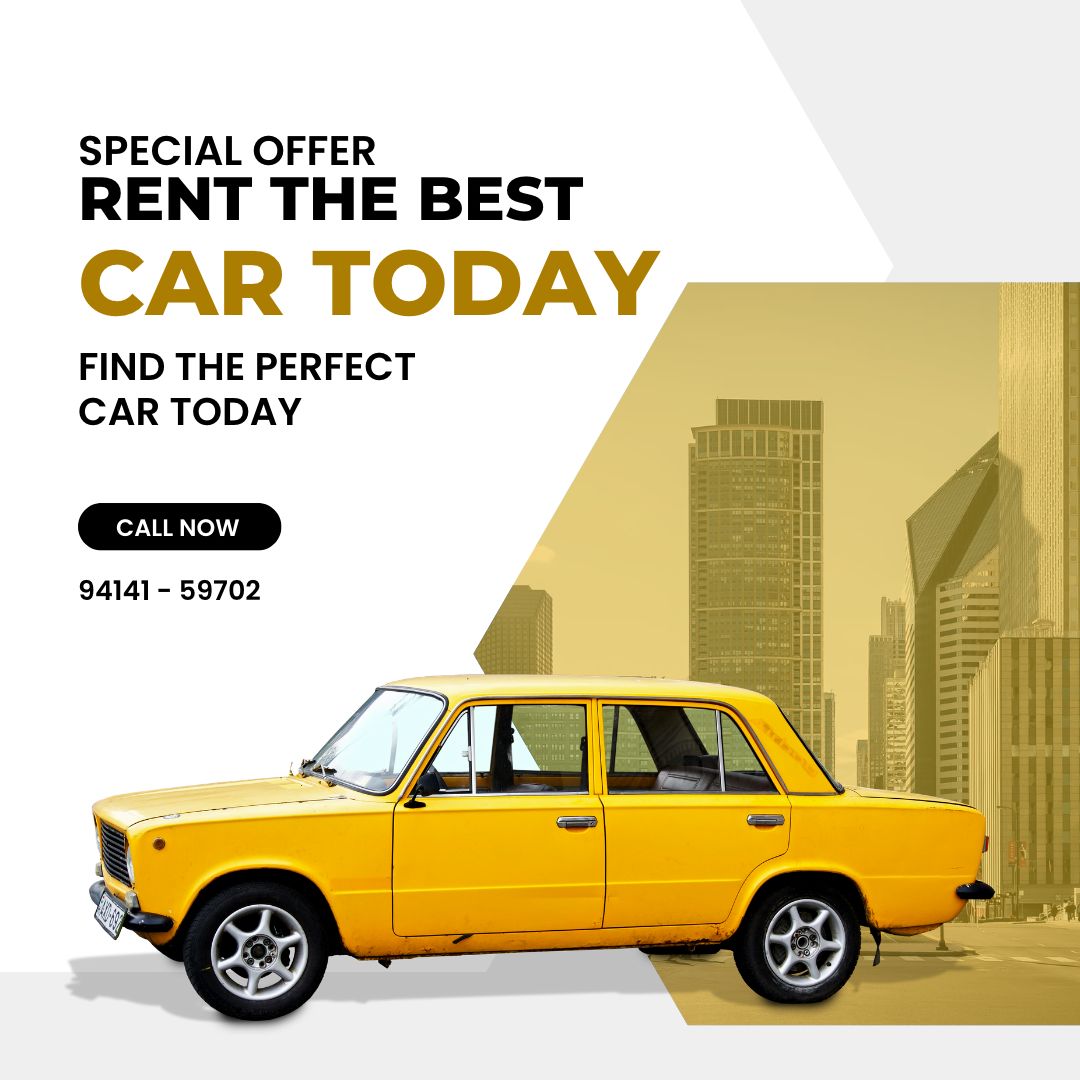 History of Udaipur Airport
Udaipur Airport is not a comment airport, it has a very interesting history. If you never heard about it, let us tell you, back in the 1950s, officially Indian Air Force used to use this airport as their military airbase. But then in 1962, they handed it to Rajasthan Government. Since then, some infrastructural transformations, and they are using it for civilian air travel.
But the transformations were not easy, it had a very small terminal building with limited facilities. Its look wasn't like it is now. But time changed, and people started using it, more and more. It got funds for upgrades and had to undergo so many renovations over the years. The time came in 2007, and the Airports Authority of India officially specified it as a civilian airport.
So what is new? The cool part is that in the year 2020, AAI (Airport Authority of India) completed a brand new terminal building at the airport. This terminal is very vast, it extends over 36 thousand sm, and it has the capacity to keep up to 1200 passengers per hour. Isn't fabulous?
Expansion of Udaipur Airport
We have already talked about the new terminal of Udaipur Airport, and how much it extends over like 36 thousand square meters. It is prety huge but not just building's hugeness but there are other elements, which are part of this building such as check-in, security, lounges, restaurants, and shops.
And not just it, it gonna be huge. What are they doing is, creating 40 thousand square meters which is even giant. They will finalize it in 2024. They are also extending from 8 thousand feet to 10 thousand and 500 feet, making it possible to uphold larger aircraft and keep up to 1000 passengers per hour. Plus, they are also going to add more taxiways, parking bays, and other facilities to make the airport run more smoothly. The Statesman website reveals it, Click here to read it.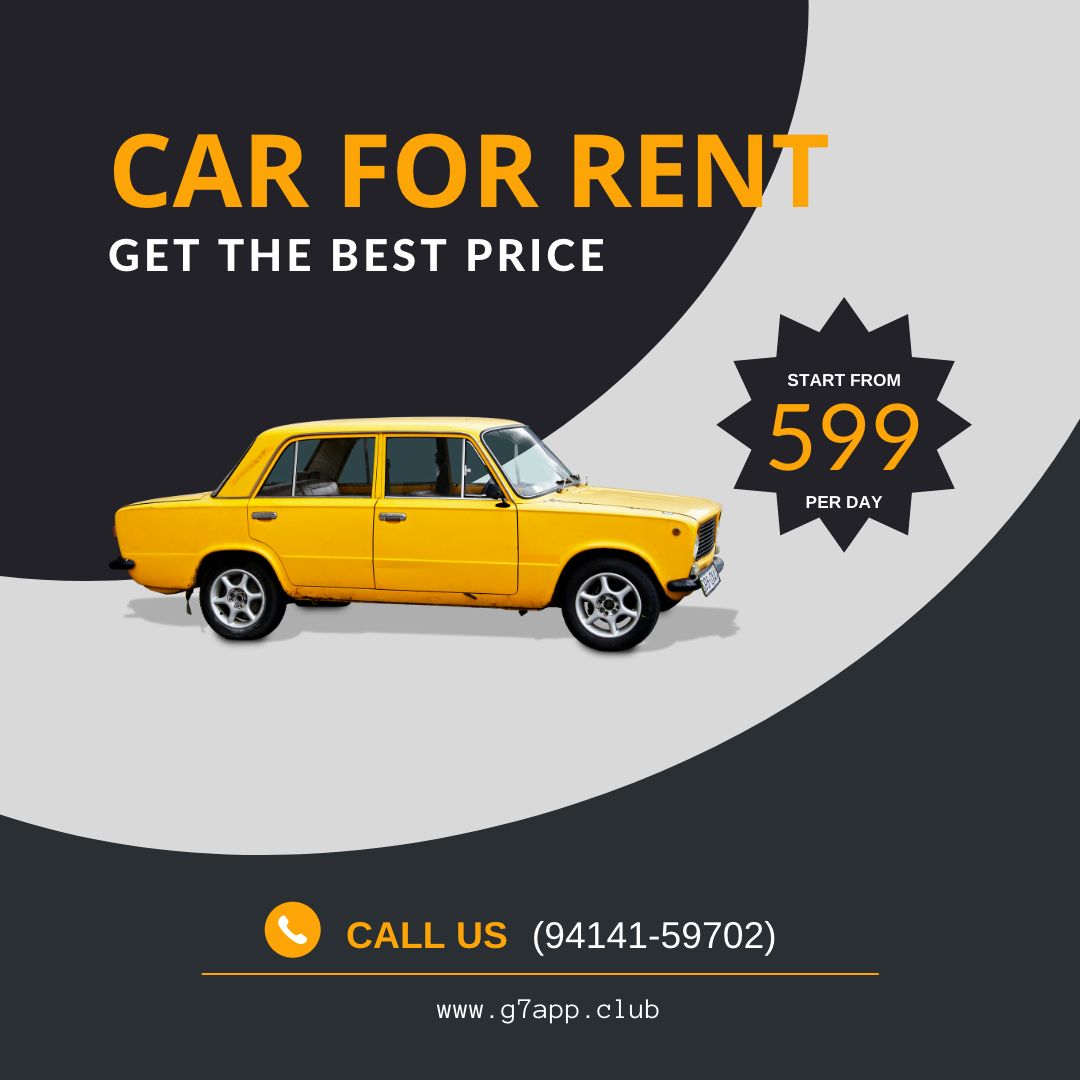 Distance from Udaipur Airport to Popular Destinations
Here is a table of the distance between Udaipur Airport and popular destinations in the city and nearby areas.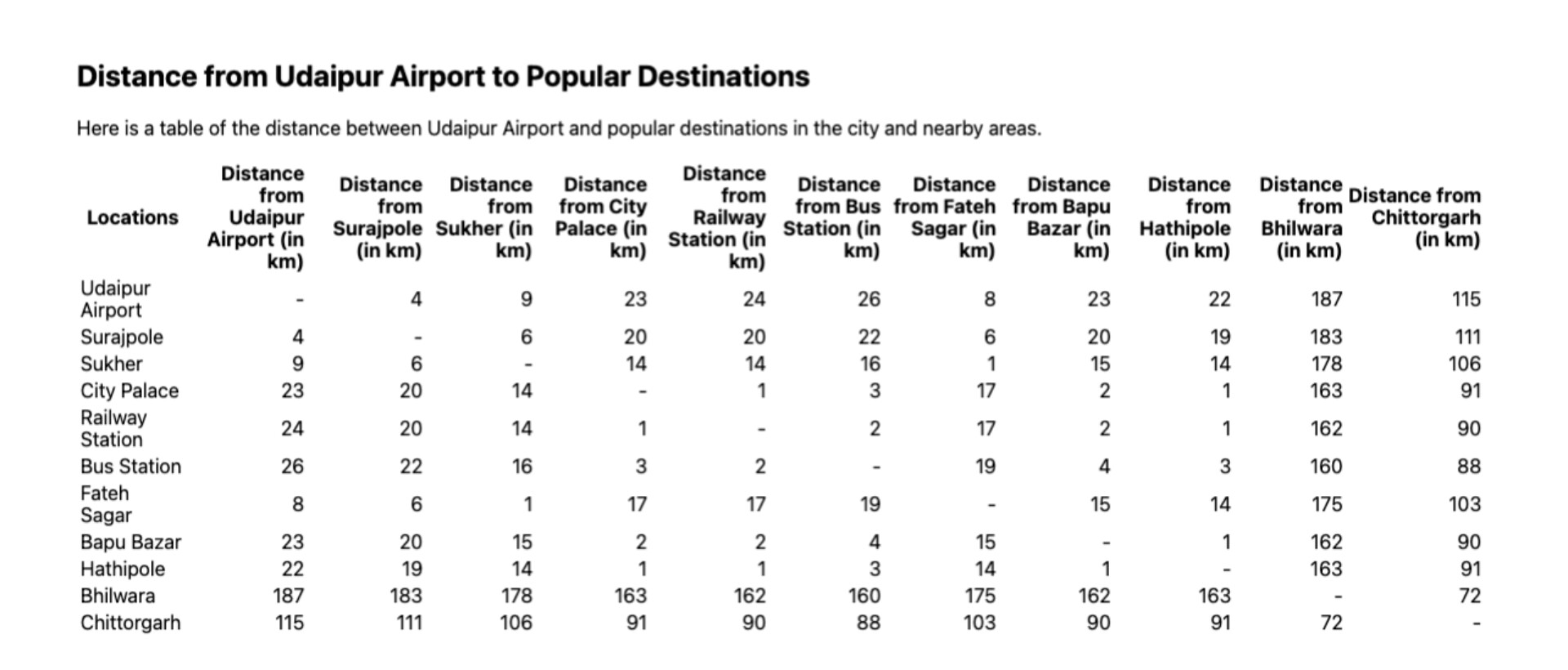 Destination Distance from Udaipur Airport
Leela Palace: Udaipur Airport to Leela Palace distance - 25 km

Mount Abu: Udaipur Airport to Mount Abu distance - 160 km

Lake Pichola: Udaipur Airport to Lake Pichola distance - 24 km

Railway Station: Udaipur Airport to Railway Station distance - 23 km *

Nathdwara: Udaipur Airport to Nathdwara distance - 57 km
Taxi Service at Udaipur Airport
In Udaipur, there are so many places, lakes, temples, art galleries, and museums. If you want to visit all the famous places you should get a Udaipur taxi package. These are the top 10 Udaipur taxi packages as per Tripadvisor. We also recommend you research before booking any package. Although G7 Udaipur Taxi Service will soon start Udaipur Taxi Package too. On Tripadvisor Website, you can see all the top-class Udaipur Taxi Package firms:
Udaipur Tour And Taxi

KRISHNA Tours & Taxi

My Taxi Udaipur

Udaipur Taxis Service

Rajwada taxi

Udaipur Meera Taxi Service

Udaipur Private Taxi Drivers

Udaipur Red Apple Taxi Service

Sheen Tours

Taxi Booking in Udaipur
Services offered by Udaipur Taxi - G7
There are multiple diverse services that Udaipur Taxi Service by G7 offers. You can pick however you like to: Udaipur to Nathdwara: G7's Udaipur Taxi Service gives Taxi Services from Udaipur to Nathdwara. It is the best Sightseeing Service in Udaipur. For this service, you will have to pay only Rs 2500, see it is really cheap.
Airport pickup and drop service: In Udaipur, there are numerous other taxi services available for airport pickup and drop but G7's Udaipur Taxi Service offers a comfortable, and stress-free experience with our services. For this service, you will have to pay only Rs 999. This service is available from Udaipur Airport also known as Maharana Pratap Airport or Dabok Airport to your destination in Udaipur only. You can read more about Udaipur Taxi Service by G7 Smart Logistics on this page.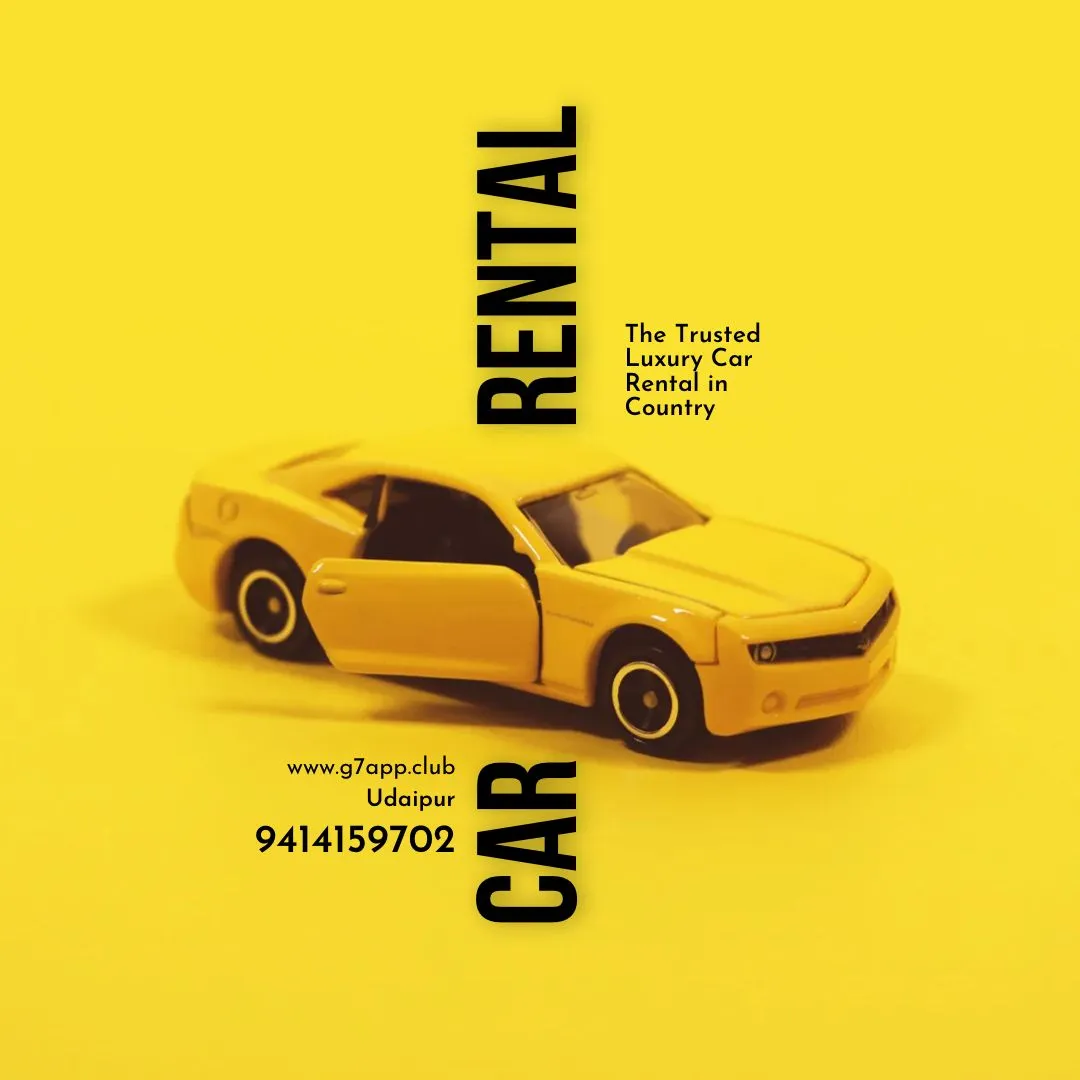 Udaipur Airport Lounge
We are going to tell you something really important as well as shameful, the Udaipur Airport had a lounge, and its name was the Golden Chariott Lounge. Unluckily, the lounge got shut down a few months ago, its tender got off. That is not the real part. People did not even like it much, it had a small space. It has very bad ratings on Google Maps, so you can understand that. It hadn't good servings but we can hope that they will initiate something better or equally good soon!
If you need to contact the Udaipur Airport, you can call the airport's customer service number at
+91-294-2655950

+91-294-2655719

+91-294-2655953
You can also visit the Airports Authority of India's official website for more information. These are the links for the social media of Udaipur Airport
Email - [email protected]
Twitter - link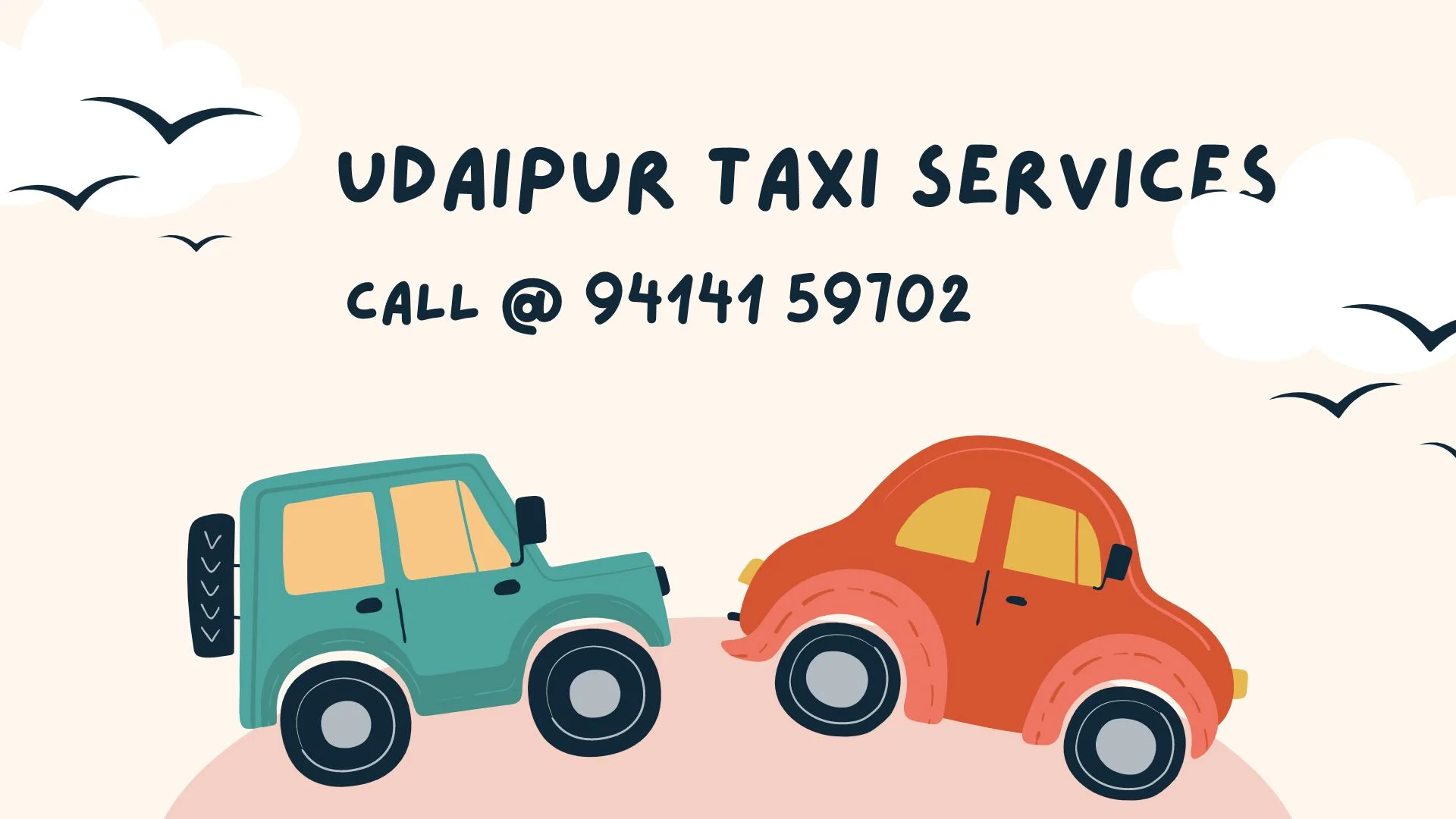 Flight Schedule, Airlines, and destinations served by Udaipur Airport
As we know that the Udaipur Airport is a domestic airport and its location is in the town of Dabok in Udaipur City. AAI (Airport Authority of India) operates the Airport and the zone that comes in its range. On Wikipedia you can read that, Udaipur Airport is serving the following airlines and destinations such as:
Air India Express: Delhi, Mumbai

Alliance Air: Ahmedabad, Delhi, Indore, Jaipur, Jodhpur

IndiGo: Delhi, Mumbai, Bangalore, Hyderabad, Kolkata, Ahmedabad, Jaipur, Lucknow, Rajkot, Surat

SpiceJet: Delhi, Mumbai, Ahmedabad, Jaipur

Vistara: Delhi, Mumbai
Please record that flight schedules and destinations are subject to change, so it's always best to review with the individual airlines or the airport directly for the most up-to-date information.
Facilities at Udaipur Airport
There are bunch of comforts that Udaipur Airport offers. On the AAI website website, we can read a list of conveniences such as:
Free mobile charging points are open at the Departure, SHA, and Arrival zones of the terminal. A childcare compartment is obtainable at the Departure and SHA sections.

Wheelchairs are available upon request. Passengers can either make a request while booking their tickets or contact the airline ticketing counter upon reaching the airport. Free drinking water facility is available.

Check-in counters and self-check-in stalls are open. There are 13 check-in counters in the Departure zone, and self-check-in facilities are available in the Departure hall. And, a smoking lounge facility is obtainable on the first floor of the SHA section.

Free medical and first aid facilities are obtainable at the airport. You can reach the airport terminal director to avail of these services. And, Free Wi-Fi is obtainable for up to 30 minutes.

Free trolleys are obtainable at the terminal. And, ATM establishments are obtainable outside the airport building, with the State Bank of India and the Bank of Baroda located there.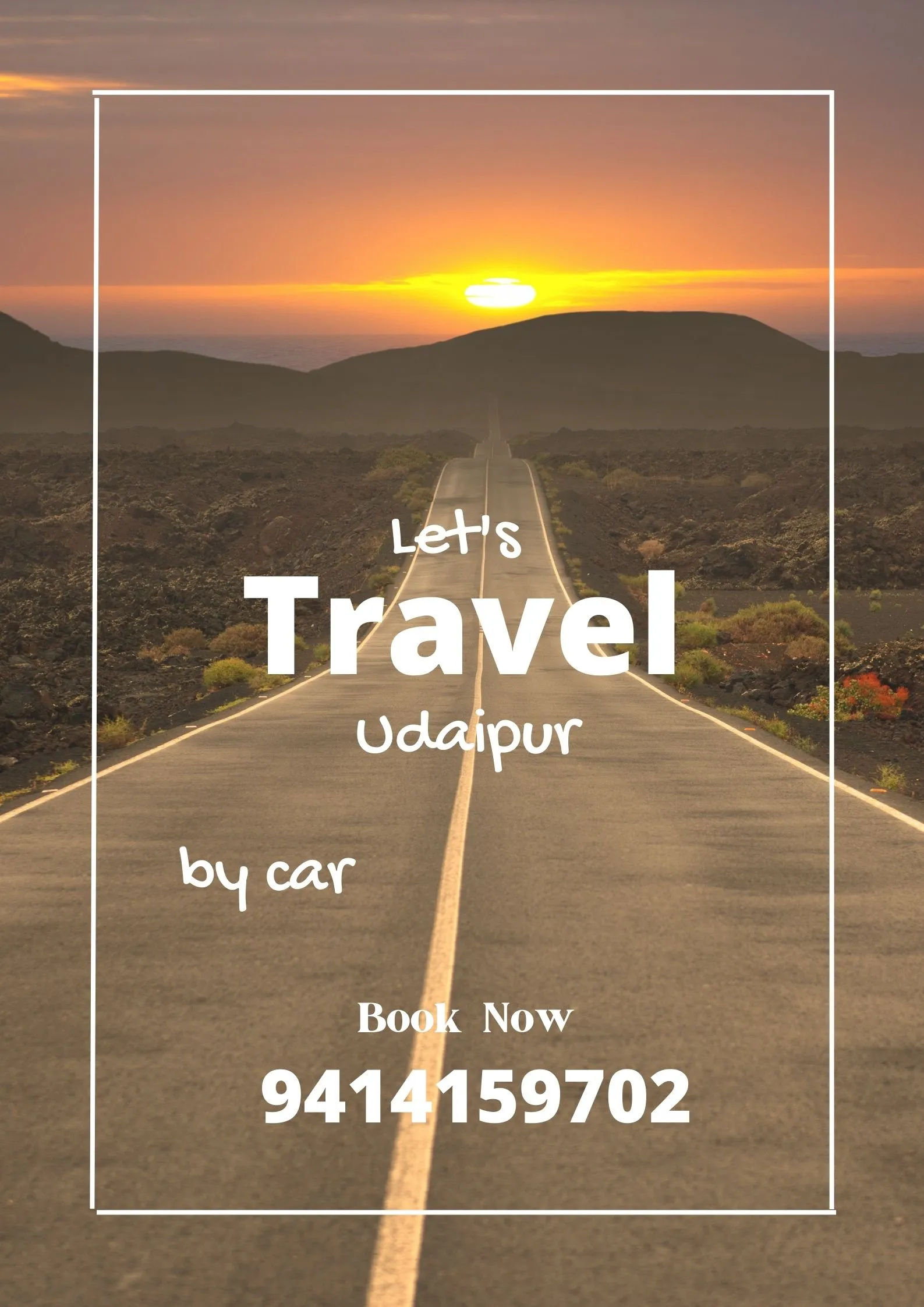 How to get to and from Udaipur Airport
Is it easier to get to the airport? We are going to answer to you. So, there are many options, as we know such as Taxi Services. And, Taxi Services are obtainable. You can easily hire them at the airport. But you can also go with renting a car option. You will be able to easily locate Rental Car Agencies at the airport.
What if you want to save money on transportation? There are solutions such as local bus or shared taxi, to arrive at the city center. And, we have also discussed that you can also take Private Transportation Services like Private Taxis, and Shuttle Buses. You can also pre-book them before you come to the airport. And in the last, if you want to stay at any hotel in Udaipur, you may wanna check if they offer Airport Transfer Services for their guests. It could save the effort of looking for transportation on your own. This will definitely support you plan your tour!
Conclusion
In conclusion, Udaipur Airport aka Maharana Pratap Airport is the main airport serving the city of Udaipur, which is a popular tourist destination in the area. Interestingly, the airport wasn't originally built for civilian use - it was actually a military airbase in the 1950s. However, in 1962, it was handed over to the Rajasthan government and converted for use by civilian travelers.
We also discussed how Udaipur Airport had gone through many changes and improvements. A few years ago, AAI completed a new terminal that had increased its capacity, and not just that it is still expanding and growing! Yes, you heard right. AAI is going to complete another terminal by 2024 and that will give passengers a luxurious experience. If you are visiting Udaipur, we have discussed how transport will save you from traffic, and give you convenience at less cost. There are many Taxi Services that can make your visit very enjoyable. The information that this blog contains will definitely support you understand what to expect from Udaipur Airport.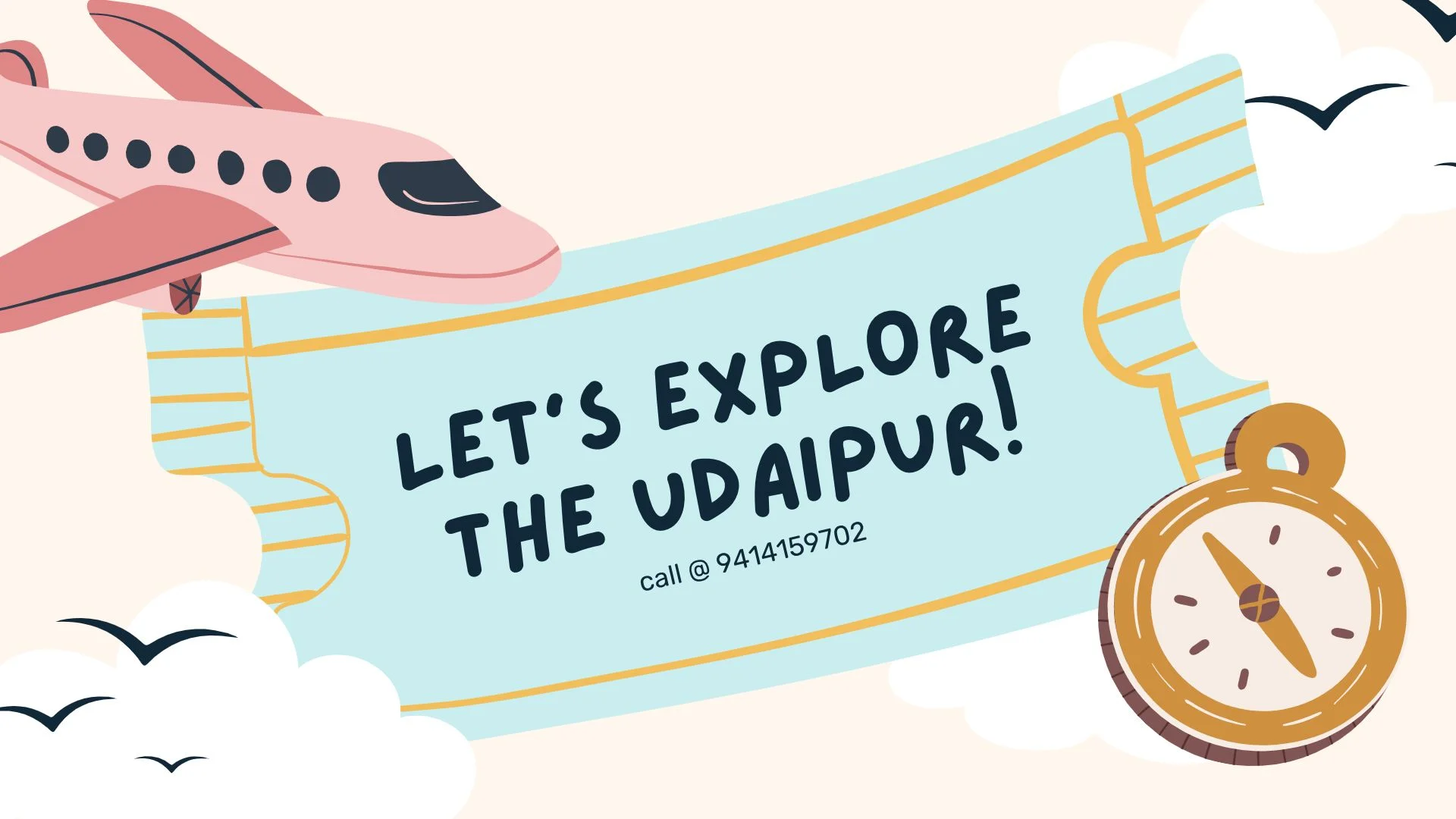 Udaipur, also known as the "City of Lakes," is a popular tourist destination located in the Indian state of Rajasthan. The city is famous for its beautiful lakes, palaces, and temples, which attract visitors from all over the world. The city has a rich cultural heritage and is known for its vibrant art and music scene.
One of the main attractions of Udaipur is the Lake Palace, which is located on the island of Jag Niwas in Lake Pichola. The palace was built in the 18th century and is known for its intricate carvings and stunning architecture. Visitors can take a boat ride to the palace and enjoy the beautiful views of the lake and the surrounding hills.
Another popular attraction in Udaipur is the City Palace, which is located on the banks of Lake Pichola. The palace is a complex of several buildings, including the Maharana Pratap Memorial, which is dedicated to the legendary warrior Maharana Pratap. Visitors can also see the Mor Chowk, which is a courtyard with beautiful frescoes and glasswork.
Dabok Airport - Maharana Pratap Airport
Dabok Airport, also known as Maharana Pratap Airport, is the main airport serving Udaipur. The airport is located about 22 km from the city center and is well-connected to major cities across India. The airport handles both domestic and international flights, making it a convenient entry point for travelers coming to Udaipur from all over the world. The airport has two terminals, one for domestic flights and another for international flights. The airport handles flights from major cities such as Mumbai, Delhi, Jaipur and Kolkata, as well as flights to international destinations such as Dubai, Singapore, and Bangkok. The airport operates flights to and from Udaipur daily and has flights arriving and departing at different times of the day and night.
The airport has a modern terminal building that is equipped with all the necessary facilities and amenities for passengers. There are several shops and restaurants where travelers can buy souvenirs, gifts, and refreshments. The airport also has a VIP lounge for business and first-class passengers.
Dabok Airport Transportation
One of the most important things to consider when traveling to a new city is transportation. And, getting to and from the airport can be a hassle, especially if you're unfamiliar with the local area.
G7 Smart Logistics is here to make your journey as smooth and stress-free as possible. We offer reliable and comfortable airport transportation service to and from Dabok Airport.
Our fleet of vehicles includes luxury cars, SUVs, and minivans. Our experienced drivers will ensure that you reach your destination on time and in comfort. You can book your airport transportation service online or through our mobile app, which is available for both iOS and Android devices. This way you can track your driver in real-time, so you'll always know when to expect your ride.
We also offer a range of other transportation services in Udaipur, including city tours, long-distance trips, and corporate transportation. Our rates are competitive and transparent, so you'll never have to worry about hidden fees or surprises. We understand that your time is valuable, so we have made it easy to book a ride with us. You can book online or through our mobile app, which is available for both iOS and Android devices. Our app allows you to track your driver in real-time, so you'll always know when to expect your ride.
ONLINE SUPPORT FOR UDAIPUR TRAVELLERS
For more information about our services, please visit our website at https://g7app.club/airport-cab-booking/ or download our mobile app from Google Play.
G7 SMART LOGISTICS KEY SUCCESS FACTORS
Best-in-class, Unique LUXURY AIRPORT TRANSFER SERVICE, Committed & experienced team G7 Smart Logistics for all your transportation needs in Udaipur. We look forward to serving you and making your journey a memorable one.
Thanks & Regards, Amit Kumar Agarwal Director - G7 Smart Logistics Mobile: 9414159702
Single App for Users and Partners (You can Switch on Single Click) Link: G7 Packers Movers Transport App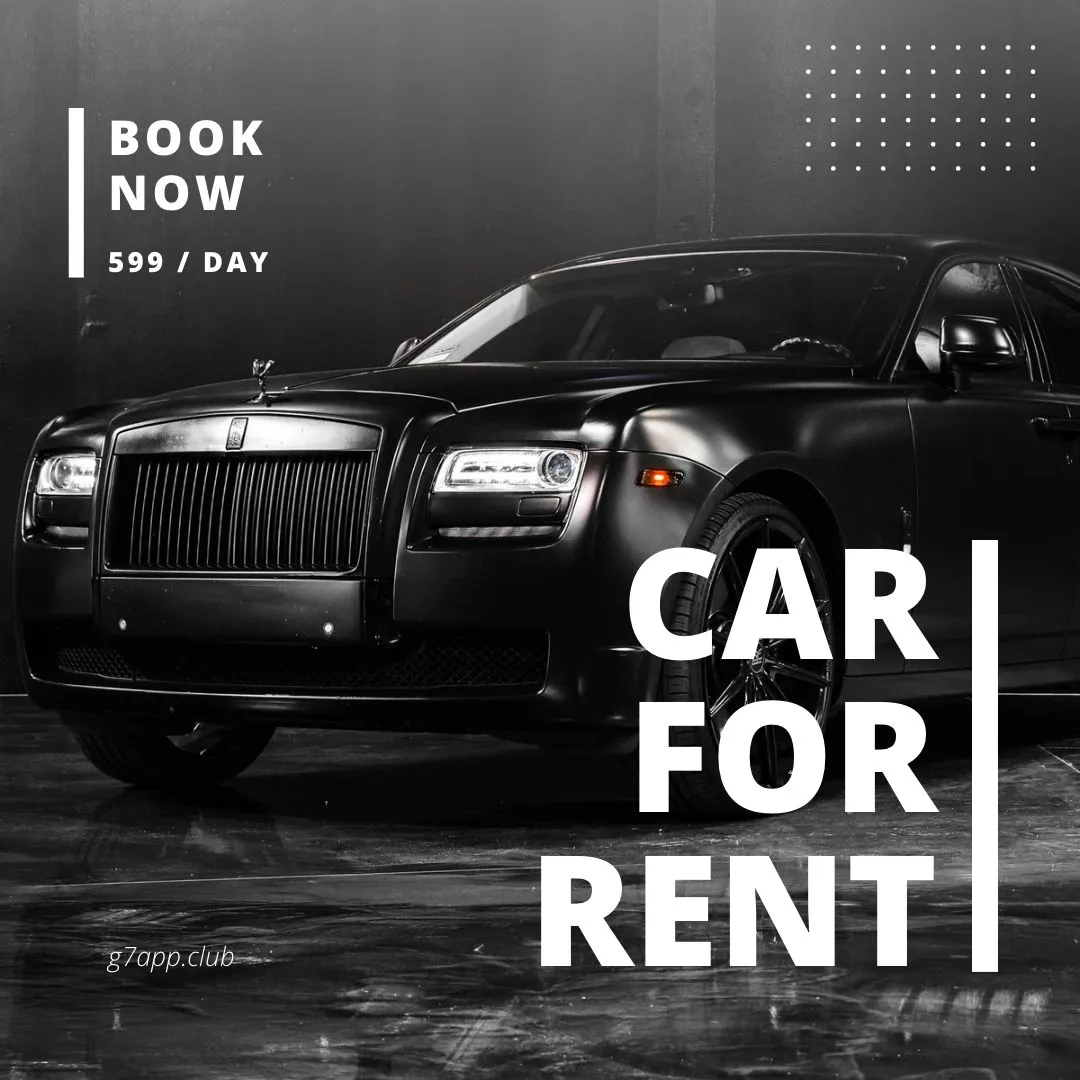 Q: What is Udaipur Airport?
A: Udaipur Airport, also known as Maharana Pratap Airport, is a public airport located in Udaipur, Rajasthan, India. It operates as a domestic airport and serves the city of Udaipur and its surrounding areas.
Q: What airlines operate flights from Udaipur Airport?
A: Several domestic airlines operate flights from Udaipur Airport, including IndiGo, Air India, SpiceJet, and GoAir.
Q: What are the facilities available at Udaipur Airport?
A: Udaipur Airport offers various facilities to passengers, including a duty-free shop, a food court, a baggage storage facility, and ATMs. There are also several restaurants, cafes, and lounges available for passengers to relax in.
Q: How do I reach Udaipur Airport from the city center?
A: Udaipur Airport is located approximately 22 km from the city center, and there are several transportation options available to reach the airport, including taxi, private car, and airport shuttle.
Q: What is G7 Smart Logistics and how does it relate to Udaipur Airport?
A: G7 Smart Logistics is a subsidiary of G7 Group, which provides logistics and transportation solutions to businesses. It operates in various countries, including India. In relation to Udaipur Airport, G7 Smart Logistics provides air freight and ground transportation services to transport cargo to and from the airport.
A: The official website of G7 Smart Logistics: https://g7app.club/ The "Airport Taxi" page of G7 Smart Logistics, The LinkedIn page of G7 Group, The Facebook page of G7 Group The YouTube Channel of G7 Group


Other Blogs: :
1 Bagged Packaged Goods, 2. Gadi with Gadi Wala, 3. Boxed Packaged Goods, 4. Online Jobs for Students, 5. Local Transport, 6. MP Transport and Transport Nagar Moving Quotes, 7. Freight Transportation Logistics, 8. Second Hand Trucks, 9. Moving Services, 10. Warehousing, 11. Cargo For Shipping, 12. Professional Packers and Movers in Bangalore, 13.Packers and Movers in Chennai, 14. Transporters in Delhi, 15.G7 House Shifting App, 16. Smooth and Stress-Free Relocation, 17. Join the Biggest Packers and Movers Group, 18. Truck Booking App in India, 19. Top Logistics Apps in India, 20. Join Transporters Group in India, 21. Top Transport Apps in India, 22. Car Transport in India, 23. Save Transport and Moving Costs, 24. Affordable Truck Booking Apps, 25. Starting a Packers and Movers Company, 26. Affordable House-Shifting Services in India, 27. Best-Rated Packers and Movers in India, 28. Packers and Movers App for Office Relocation, 29. Transport Bike from One City to Another, 30. Commercial Truck Booking App for Logistics Companies, 31. Packers and movers for long distance moving, 32. Top Truck Rental Apps for Local and Outstation Deliveries