G7 Smart Logistics offers Work-From-Home Jobs for Females to Promote Packers, Movers, Transport, and Insurance Services
Your one-stop destination for all your logistics needs: G7 Smart Logistics App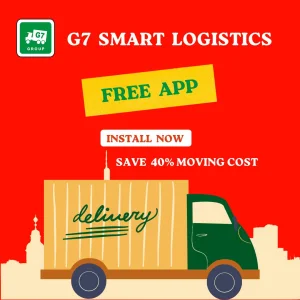 Work-From-Home Jobs for Females:
Founded in India, G7 Smart Logistics is a firm that provides comprehensive online logistics and shipping services. We offer effective and dependable solutions to satisfy the transportation and logistics demands of companies and individuals across India thanks to our team of qualified professionals and cutting-edge technologies.
Now, we are seeking intelligent, imaginative women to join our team and work remotely to promote our startup. To assist us in getting the word out about G7 Smart Logistics and our services, we are looking for YouTubers, Instagram influencers content writers, and SEO specialists
You get the chance to promote our services to your audience as a YouTuber or Instagram influencer by making interesting videos or Instagram reels that highlight our packers, movers, transport, and insurance services. You will be in charge of producing viral content that advertises our company and draws in new customers.
Both, we're looking for content writers who can create excellent blogs and articles to market our services and draw more people on our website. To improve our website's search engine ranking, you will be in charge of using a variety of SEO tactics, such as keyword research, on-page seo, & link building.
Whether you are looking for a full-time or part-time job, we welcome all applications regardless of age As long as you have the creativity and drive to promote our startup and our services, we want you on our team!
We offer compensation on a per-video or per-real basis since we are conscious of the time and work required to create viral content. We also provide reasonable costs for SEO experts who can assist us in achieving our desired ranking on search engines.
We at G7 Smart Logistics cherish our staff members and think it's important to provide a welcoming workplace. We encourag our female employees to express their creativity and provide their distinctive viewpoints to our company.
Hence, apply right away to join our team at G7 Smart Logistics if you are a skilled YouTuber Instagram Influencer content writer or SEO expert searching for an interesting work-from-Home opportunity. We can work Together to make it simple and effective for companies and individuals throughout India to satisfy their logistics and transportation needs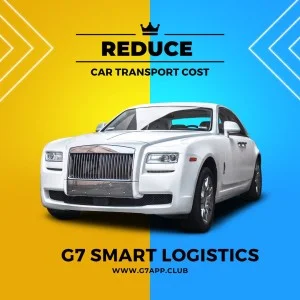 To Apply Work-From-Home Jobs:
G7 Smart Logistics welcomes you on our team if you're a skilled YouTuber, Instagram influencer, content writer or SEO specialist searching for an exciting work-from-home opportunity! In this essay we'll go over how to apply for positions and offer some advice on how to make a standout video or real that promotes our startup and your talents!
Express your passion for the job you're interested in via a message to us on WhatsApp at 7014350720 to apply for one of our openings. Once reviewing your application, we'll get into touch with you to speak about the next step.
If you have any links to prior work that exemplifies your originality and aptitude, be sure to submit these with your application along with a brief explanation of your experience and talents. Links to your blog, website, YouTube channel, Instagram page, and any articles or videos you've authored or produced for other businesses are all examples of this.
In order to stand out from the competition and increase Your chances of being recruited, you advise generating a sample video or real that promotes our startup and Displays their talents Here are some suggestions For creating a memorable image or video!
Choose a catchy and memorable concept:- Your video or real should be unique, creative, / memorable Think outside the box and come up with a concept that will capture the attention of your audience!
Consider the advantages of using our services: In your video or in person, emphasise the advantages of the packers, movers, transport, and insurance services offered by G7 Smart Logistics. This will make our services more clear to potential clients encouraging them to think about employing us for their transportation and logistics requirements
Make it brief and sweet: People's attention spans on social media are limited, so keep your video or post brief and straight to the point. Your video or real should ideally last no more than 60 seconds.
Purchase in a top-notch Camera and Microphone to ensure so your video or actual presentation Looks And sounds professional Use sound and image quality that is high If your video or real has excellent visuals and audio it will stick out now and leave a mark on your viewers
Add a call-to-action: Encourage your audience to visit our website, follow us on social media, or contact us to learn more about our services Adding a call-to-action to your video or real will increase the likelihood that your audience will take action and engage with our startup!
Post your video or real, as appropriate on your Instagram page, YouTube channel or other social Media sites Make sure to Tag us in Your post and use the hashtag G7 SmartLogistics so That we can Easily discover it
You will be chosen to join our team at G7 Smart Logistics if your real-life or online, video receives 10,000 likes in the space of 10 days After clearance you will additionally be paid -Rs. 5,500 each actual or fake video that we broadcast on our website / on social media using our official account.
Last but not least, apply right now to join our team at G7 Smart Logistics if you are a proficient YouTuber Instagram personality, content writer and SEO specialist. looking for a fulfilling job opportunity If you follow our guidelines for producing a top-notch film or real, you can be selected to join our team and start generating a solid living from your creative endeavours!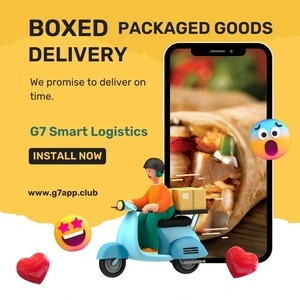 Work from Home Opportunity: G7 Smart Logistics Seeking Telecaller for Vehicle Insurance Renewals:
G7 Smart Logistics provides an amazing opportunity for you if you're Seeking for a work-from-Home job that enables you to work autonomously and make a respectable compensation,To assist us in renewing our customers auto insurance,we are now looking for a telemarketer!
As a tele caller for G7 Smart Logistics, your job will be to call the protected mobile numbers and other customer details provided by G7 and convince them to renew their vehicle insurance through our company You'll be responsible for building a rapport with customers, answering their questions and helping them find the best insurance policy for their needs!
For such a position, in addition to a strong sales background, candidates must also possess excellent communication and customer service skills. You should be capable of working alone, utilise your time wisely, & regularly achieve their sales targets.
One of the nicest aspects of such a job is the potential of working from home, which gives you the freedom can choose your own hours and take care of your needs. Also, offering insurances from all of India's major insurance companies could offer buyers a variety of choices.
You will be paid a respectable salary as a telemarketer for G7 Smart Logistics and commission on each contract you close. This implies that you will make more money the more insurance plans you sell!
Success in just this role requires positivity and a willingness to learn about various insurance rules /regulations. You should also feel comfortable utilising technology, including computers, smartphones and other communication tools!
Call us at the number provided or send an email with your resume and a brief bio if you're interested in applying for the role of telecaller at G7 Smart Logistics We'll get in touch with you to discuss the next steps when we've reviewed your application!
In conclusion working as a telecaller with G7 Smart Logistics can be an enjoyable and meaningful career that enables you to work from home and make a respectable wage Join our team by submitting an application right away to get started assisting clients in locating the finest insurance options*
F&Qs: G7 Smart Logistics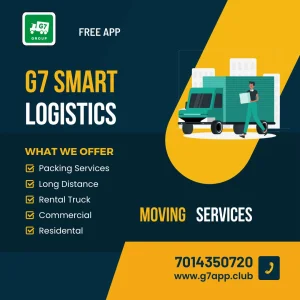 Q: What kind of work-from-home jobs does G7 Smart Logistics offer?
A:G7 Incredible Logistics provides work-at-home possibilities for women, Youtube stars, influencers, telemarketers, content writers and SEO experts to promote packers, movers, transport companies, and security firms across India There are no time restrictions on these positions, thus either full- or part-time employment is possible!
Q: How can one apply for a work-from-home job at G7 Smart Logistics?
You can apply for a work-from-home job if a post obtains 10000 likes in ten day's via sending a sample video with real post to G7 Smart Logistics' Whatsapp number. any of the aforementioned roles are available for application thru the application process
Q: How does G7 Smart Logistics pay its employees for creating videos or reels?
A: G7 Smart Logistics pays its employees Rs 5,500 per video or reel after Approval which is then posted on the company's websites or social media Page through the official account*
Q: What does a telecaller at G7 Smart Logistics do?
A G7 Smart Logistics telemarketer phones protected mobile numbers and other client information supplied by the business to persuade people to renew their auto insurance with G7. Telecallers are in charge of establishing rapport with clients responding to their inquiries and guiding them towards the best insurance option for their requirements
Q: What are the qualifications required to become a telecaller at G7 Smart Logistics?
A: To perform as a telecaller at G7 Smart Logistics, you must be able to work independently, have big sales experience and possess top-notch interpersonal and client service abilities. You should be comfortable utilising technology and keen on learning about different insurance plans and rules!
Q: What is the advantage of working as a telecaller for G7 Smart Logistics?
A benefit of working as a telemarketer with G7 Smart Logistics is that you may work remotely, choose your own hours, and sell insurance policies from all of India's top insurance providers. Telecallers have the chance to increase their income with each transaction because they are paid a respectable wage plus commission on each deal they close.
Q: Is prior experience required to apply for work-from-home jobs at G7 Smart Logistics?
A: While prior experience may be helpful, it is not always required to apply for work-from-home jobs at G7 Smart Logistics. The company values creativity, passion, and the ability to create viral content, which means that anyone with the right skills and attitude can apply for these jobs.
Q: What kind of content should be created by the employees of G7 Smart Logistics?
A: G7 Smart Logistics' staff should provide interesting, viral material that promotes the business' packers, movers, transportation and insurance services. Videos, reels, social media posts, blogs, articles, and site material that is SEO-optimized are all examples of content that can be used!
Q: Can a telecaller at G7 Smart Logistics work from any location in India?
Telecallers at G7 Smart Logistics may operate from any location in India as long as they have access to a dependable internet connection and a suitable workspace The company provides all the information, tools, and resources needed to finish the assignment remotely
Q: What is the process for selecting candidates for work-from-home jobs at G7 Smart Logistics?
A: G7 Smart Logistics selects candidates for work-from-home jobs based on their ability to create viral content, communicate effectively, and demonstrate a strong work ethic. The company reviews sample videos or reels created by candidates, and those who meet the required standards are selected for further interviews and training!
Q: What kind of insurance policies does G7 Smart Logistics deal with?
A: Life, health, car, and property insurance are all offered by the major insurance companies with which G7 Smart Logistics has relationships in India. The company provides customers with a range of insurance options and helps them choose the one that best fits their needs and financial position.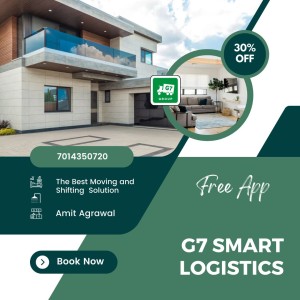 G7 Transport Logistics was another company that benefited from this effective shipping strategy G7 Transport Logistics is in charge of managing their plans and strategies for attaining their objectives Businesses that partner with Organisations like G7 Logistics Operations can provide excellent transportation solutions that boost sales and the regional economy
Website: https://g7app.club/hire-transporters/
App download link for Android: G7 Smart Logistics
YouTube link: https://youtu.be/1fgQNKspZgg
With their user-friendly website and mobile app, G7 Packers and Movers make it simple for customers to schedule their services & track their shipments in live time. Also, they provide services like loading, unloading, transportation, storage, and packing and unpacking.
G7 Transportation, a market-leading logistics and transportation company, provides customers with dependable & efficient transportation solutions. The offer a wide variety of services, such as road transport, air freight, & maritime freight.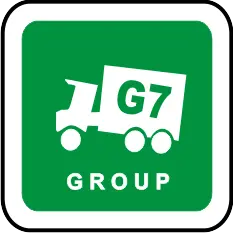 Top Logistics Apps and G7 Transport App Work and features:
The finest logistics applications connect users with transportation providers, enabling them can manage their logistics needs effectively and quickly. These apps frequently include a range of features that make logistics and transportation procedures simpler, like:
Real-time Booking Notification Alerts: Almost majority of the best logistics applications include real-time tracking and Booking Notification Alerts for exports, enabling Organisations to check up on the status of their deliveries within real-time
Direct communication with drivers: Some of the best logistics apps enable businesses and individuals to speak with drivers directly, giving them more insight into and control over their shipments.
Multiple vehicle options: A lot of the assistance implementation programmes offer a range of vehicle options, including cars, bikes, vans, trucks / trailers to meet the needs of various Organisations
User-friendly interfaces: The best logistics programmes frequently offer interfaces that are easy to use, which makes organising deliveries and tracking shipments for businesses and people simple
24/7 customer support: The majority of the top logistics software packages offer round-the-clock customer support, allowing businesses access to help whenever they need it.
Multiple payment options: Many of the top logistics programmes let users pay for deliveries using different options such credit cards, debit cards, and net banking.
Automated delivery updates: Some top logistics apps provide automated delivery updates, keeping businesses and individuals informed about the progress of their shipments / reducing the risk of delays
These are some of the most important features that top logistics apps often include. These apps are assisting in streamlining the transportation and logistics process by utilising technology and innovation, making it simpler for organisations / people to manage their logistical needs. There is a top logistics software that can match your demands, whether you're a company trying to enhance your supply chain or an individual seeking a convenient and effective transportation option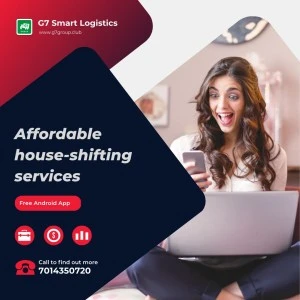 Cost-effective Logistics Apps in India:
For more information about our services, please visit our website or download the mobile app from Google Play.
Why G7 Transport App is best for Logistics Services:
Best-in-class, No Broker, No Commission, Unique LUXURY TRANSFER and Packers and Movers Service,
Biggest group of Committed & experienced Packers and Movers team, G7 Smart Logistics for Packers and movers for long-distance moving and all your transportation needs.
Single App for Users and Partners (You can Switch on Single Click) Link: G7 Packers, Movers Transport App
#G7SmartLogistics #WorkFromHomeJobs #FemaleEmployees #YouTube #Influencer #Telecalling #VehicleInsurance #ContentWriting #PackersAndMovers #TransportServices #StartupIndia #OnlineLogistics #FullTimeJob #PartTimeJob #SEOExpert #ViralContent #PaymentPerVideo #PaymentPerReal #CommissionBasedSalary #RenewVehicleInsurance #MajorInsuranceCompanies #RemoteWork #ApplyNow
Other Blogs:
1 Bagged Packaged Goods, 2. Gadi with Gadi Wala, 3. Boxed Packaged Goods, 4. Online Jobs for Students, 5. Local Transport, 6. MP Transport and Transport Nagar Moving Quotes, 7. Freight Transportation Logistics, 8. Second Hand Trucks, 9. Moving Services, 10. Warehousing, 11. Cargo For Shipping, 12. Professional Packers and Movers in Bangalore, 13.Packers and Movers in Chennai, 14. Transporters in Delhi, 15.G7 House Shifting App, 16. Smooth and Stress-Free Relocation, 17. Join the Biggest Packers and Movers Group, 18. Truck Booking App in India, 19. Top Logistics Apps in India, 20. Join Transporters Group in India, 21. Top Transport Apps in India, 22. Car Transport in India, 23. Save Transport and Moving Costs, 24. Affordable Truck Booking Apps, 25. Starting a Packers and Movers Company, 26. Affordable House-Shifting Services in India, 27. Best-Rated Packers and Movers in India, 28. Packers and Movers App for Office Relocation, 29. Transport Bike from One City to Another, 30. Commercial Truck Booking App for Logistics Companies, 31. Packers and movers for long distance moving, 32. Top Truck Rental Apps for Local and Outstation Deliveries