Sustainable Transport Solutions for India's Growing Economy
Sustainable Transport Solutions in India
Introduction
Ranked second in terms of the population globally, India boasts one of the swiftest developing economies on the planet. Nonetheless, its transportation system stays a crucial bottleneck that stifles economic growth due to a variety of issues. India's transportation system is beleaguered with problems, including insufficient infrastructure, traffic snarls, hazardous air pollution, and road safety issues. These problems have far-reaching negative consequences, including environmental degradation, public health hazards, and significant barriers to economic advancement.
As India faces mounting transportation-related obstacles, the clamor for sustainable mobility alternatives becomes increasingly urgent. Sustainable transportation modes are those that prioritize ecological soundness, social responsibility, and financial feasibility. These options strive to mitigate the detrimental effects of transportation on the ecosystem and human well-being, while also promoting economic advancement.
India is taking significant strides towards sustainable transportation with a diverse range of solutions. One of the most prominent initiatives is the government's investment in electric vehicles (EVs) and corresponding charging infrastructure, catering to the surging demand for EVs. Besides, the authorities are endorsing the usage of public transportation and eco-friendly alternatives like cycling and walking. Expanding the country's railway network and building high-speed rail networks are also top priorities for the government, enabling greener modes of transport across the nation. G7 Smart Logistics is also taking a step in this direction, where we are giving our partners better and eco-friendly vehicles to choose from, giving you the option of choosing better routes. You can also try our app to get the best transportation, packing, or moving services. Click here to download the G7 app now.
Incorporating eco-friendly transportation solutions into India's infrastructure has the potential to yield numerous advantages for both the environment and the economy. The most significant benefit of sustainable transport is that it can help curb air pollution, which has become a pressing health issue in the country. Additionally, it can detract from traffic congestion and enhance road safety, making transportation more streamlined and secure for all. In addition, these sustainable measures can result in reduced transportation expenses, amplified productivity, and increased job opportunities in the transport sector, all of which can play a vital role in bolstering the economy. In this blog post, we will dig into some of the primary sustainable transport solutions that are currently being implemented in India, their respective advantages and challenges, and how they are changing the country's transportation system.
Electric Vehicles (EVs)
India's shift towards electric vehicles is a notable stride towards sustainable transportation, yet it's not without obstacles. One of the biggest hindrances is the deficiency of charging infrastructure and the high initial expenses that come with owning an electric vehicle. Nevertheless, the government is dedicated to tackling these hurdles by constructing a strong network of charging stations and promoting the use of renewable energy sources for EV charging. Moreover, the government is actively working on devising policies and regulations that offer incentives for the adoption of eco-friendly transport options. Despite the challenges, the escalating recognition and acceptance of sustainable transport alternatives in India offer a hopeful outlook for a cleaner and more sustainable future.
Public Transport
Besides the implementation of electric buses, the Indian government is vigorously advocating for the usage of metro rail and suburban trains to provide a dependable and economical public transport system. These means of transportation not only aid in diminishing carbon emissions but also facilitate interconnecting various parts of the city, making education and job opportunities more accessible. However, the challenge remains in extending and upgrading the quality of public transport options in small towns and rural regions. Additionally, there is a need to launch public awareness campaigns to persuade people to switch to public transportation and decrease their dependence on private vehicles. In summary, investing in public transport is a pivotal constituent of sustainable transportation solutions in India, which can create a more efficient and environmentally friendly transportation network for the country.
Bicycle Sharing
Bicycle sharing is a sustainable and low-cost delivery answer this is gaining a reputation in India. Several towns have released bike-sharing schemes that permit customers to hire bicycles for quick intervals of time. These schemes are an incredible manner to inspire human beings to cycle for quick trips, which can lessen the variety of automobiles on the street and enhance air quality.
Bicycle-sharing schemes work on a simple principle – users can rent a bicycle from a designated docking station for a small fee, and return it to any other docking station in the city. This makes it convenient for users to cycle for short trips without the require to own a bicycle or worry about parking.
Many bike-sharing schemes in India are operated through non-public companies, even as a few are run through municipal corporations. The authorities are likewise selling the usage of bicycles by putting in biking lanes and imparting infrastructure together with parking facilities.
Although bicycle sharing presents various advantages, it also brings about a set of issues that must be tackled, including insufficient knowledge among the general public and a requirement for improved infrastructure. Nevertheless, as bike-sharing initiatives continue to get momentum in India, it is probable that a larger number of individuals will opt for cycling for short distances, ultimately contributing to the advancement of eco-friendly transportation.
Freight Transport
Transporting goods is a vital element of India's economy, yet it poses a considerable threat to the environment due to the high levels of pollution and greenhouse gas emissions. Therefore, logistics enterprises are taking a proactive approach towards promoting sustainable transportation methods such as implementing hybrid and electric vehicles, as well as researching alternative fuel options like biofuels and hydrogen.
Efforts towards promoting eco-friendly freight transport in India are gaining momentum. A pilot initiative by the Ministry of Road Transport and Highways has been launched to test the feasibility of using liquefied natural gas (LNG) as an alternative fuel for trucks, with the potential for significant emission reduction on a major highway. Moreover, the government is exploring various incentive mechanisms including tax exemptions and subsidies to encourage the uptake of sustainable freight transport solutions.
Furthermore, the government is advocating for the adoption of intermodal transportation, which entails utilizing various transportation methods such as roadways, railways, and waterways. This outlook can help minimize the dependence on trucks for transporting goods and subsequently curtail carbon footprints.
Despite tireless efforts, numerous hurdles persist in the pursuit of promoting sustainable freight transport in India. One of the significant impediments is the absence of requisite infrastructure for alternative fuels, coupled with the exorbitant cost of integrating new technologies. Nonetheless, with a collaborative effort from the public and private sectors, it is undoubtedly feasible to establish an environmentally friendly and cost-effective freight transport system in India.
Intelligent Transport Systems (ITS)
In the reign of modern transportation, Intelligent Transport Systems (ITS) present an innovative and tech-driven approach to enhance the safety and efficiency of transportation networks. By fostering a more connected, automated, and intelligent transportation system, ITS offers a diverse range of solutions, including cutting-edge traffic management systems, real-time passenger information networks, and state-of-the-art smart parking solutions.
ITS technology is a game-changer for transportation optimization, as it can decrease traffic jams, enhance safety, and detract emissions. One way it does this is through traffic management systems that leverage real-time data to streamline traffic flow and minimize congestion. On the other hand, real-time passenger information systems are equally critical as they furnish commuters with accurate information about their journeys, allowing them to plan accordingly and steer clear of potential delays.
Implementing intelligent parking solutions can significantly detract the amount of time spent searching for available parking spaces, leading to a reduction in traffic congestion and harmful emissions. By leveraging intelligent transportation systems (ITS), transportation networks can be optimized for enhanced sustainability and efficiency, resulting in the development of more livable and ecologically responsible urban areas.
Encouraging the use of electric vehicles
India has set a goal of reaching 30% electric-powered automobile adoption with the aid of using 2030. The authorities have released numerous tasks to inspire using electric-powered automobiles, which include imparting tax incentives and subsidies to EV producers and buyers. Additionally, the Indian authorities have an additional installation of a countrywide electric-powered mobility undertaking plan to assist create a strong infrastructure for EV charging stations throughout the country. However, the adoption of electrical automobiles in India faces numerous demanding situations, which include excessive advance charges and the dearth of charging infrastructure. The Indian authorities and personal organizations want to paint collectively to deal with those demanding situations and boost the adoption of electric automobiles withinside the country. If successful, the extensive adoption of electrical automobiles can extensively lessen India's carbon footprint and make contributions to the country's sustainable improvement goals.
Developing clean energy infrastructure
Developing easy electricity infrastructure is vital for assisting the increase of electrical automobiles in India. This entails putting in place solar and wind farms, in addition to making an investment in battery era and garage answers. The Indian authorities have set a formidable goal of putting in a hundred seventy-five GW of renewable electricity ability through 2022 and ambitions to attain 450 GW by 2030. Such objectives will assist to lessen carbon emissions, enhance electricity security, and decrease prices for consumers. With good enough easy electricity infrastructure, it is going to be viable to rate electric-powered automobiles with easy electricity and decrease dependence on fossil fuels. Additionally, renewable electricity answers along with sun-powered charging stations may be advanced to similarly lessen carbon emissions. Overall, growing a strong easy electricity infrastructure is prime to attaining sustainable shipping answers in India
Promoting public transportation is one of the handiest methods to lessen carbon emissions withinside the transportation sector. Mass transit structures consisting of buses, metros, and trains are critical for sustainable city shipping. The Indian authorities have released numerous tasks to trade public transportation, consisting of the Smart Cities Mission and the Atal Mission for Rejuvenation and Urban Transformation. These tasks' purpose is to create sustainable city shipping structures which might be accessible, affordable, and efficient.
One of the important thing blessings of public transportation is that it may notably lessen the range of vehicles on the road. This now no longer handiest reduces carbon emissions however additionally eases site visitors' congestion and improves air quality. Additionally, public transportation is regularly greater low priced than personal vehicles, making it on hand to a bigger segment of society.
Public transportation's success is greatly influenced by how easily accessible and effective it is. The government must make improvements to the quality of India's public transit systems if it wants to guarantee their accessibility and effectiveness. This entails improving last-mile connectivity, detracting travel time, and improving the passenger experience on public transportation. These actions may encourage more use of public transit, resulting in a more environmentally friendly transportation system. Therefore, the Indian government should take the required actions to improve the residents' access to and use of public transit.
Encouraging cycling and walking
Promoting sustainable transportation in India can be achieved by advocating for cycling and walking as viable options. The proliferation of cars and other motor vehicles on the roads needs the development of alternative modes of transportation that are both eco-friendly and budget-friendly. Encouraging people to involve in these options is a practical way of detracting carbon emissions and alleviating the negative impact of transportation on the environment.
To achieve this goal, the Indian government has launched initiatives such as the Green Mobility Scheme. This program goals to promote non-motorized transport in urban areas by building dedicated cycle lanes and pedestrian walkways, as well as creating incentives for people to cycle or walk to work or school.
In various cities across India, cycling lanes and pedestrian-friendly areas are being developed to promote non-motorized modes of transportation. The advantages of cycling and walking are numerous, ranging from enhancing overall physical health, and detracting from traffic congestion to promoting cleaner air and a more sustainable environment.
In India, promoting sustainable transportation can be greatly achieved by advocating for cycling and walking. The incorporation of these modes of transport is crucial in building a more environmentally friendly future for the nation. It is imperative to continue to dispense resources to encourage these alternatives and foster a culture of sustainable commuting.
Developing sustainable logistics solutions
The significance of sustainability in the logistics sector has grown considerably, and it is imperative to come up with sustainable approaches. Utilizing fuel-efficient automobiles is a productive strategy to minimize carbon footprints. Organizations can also enhance their delivery routes to detract from fuel consumption and resulting emissions. Moreover, the employment of non-disposable packing materials can significantly diminish waste and reduce the overall environmental impact.
Thankfully, there exist corporations such as G7 Smart Logistics that are dedicated to crafting eco-friendly logistics solutions. These enterprises furnish groundbreaking tools and amenities that assist businesses in streamlining their logistics operations and curtailing their carbon footprint. One of the ways G7 Smart Logistics accomplishes this is by supplying up-to-the-minute monitoring and analysis of vehicle performance, empowering companies to pinpoint areas for advancement and bolster their fuel efficiency. Through the implementation of these sustainable logistics solutions, enterprises can heighten their environmental sustainability and simultaneously reduce expenses and enhance their profitability. Click here to download the G7 App now.
Conclusion
Guaranteeing the livability of cities in India requires prioritizing sustainable urban mobility. As urbanization and population growth continue to surge, it is crucial to evolve and execute novel approaches that foster equitable and sustainable urban mobility.
Collaboration among various entities is crucial to attaining the goal at hand. It is imperative for the government, private sector, civil society, and citizens to work in harmony towards a comprehensive and associative approach. The government plays a pivotal role in this effort by facilitating municipal governments and citizens with needed infrastructure and regulatory measures that foster sustainable urban mobility. This encompasses the establishment of secure and convenient pedestrian and cycling infrastructure, integrating public transportation systems, and advocating for non-motorized modes of transportation.
The private sector can also play a vast role by investing in sustainable transport solutions such as electric vehicles and green public transport. Civil society can advocate for sustainable urban mobility policies and ensure that the necessities and voices of marginalized communities are taken into account.
Promoting sustainable urban mobility is heavily reliant on the accountability and efficiency of public transportation. To accomplish this, carrying into effect technology-driven approaches like real-time information systems and fare integration are compulsory.
G7 Smart Logistics App: Revolutionizing the Supply Chain Industry, Most Affordable Shifting and Moving services, Cost-effective Logistics Services in India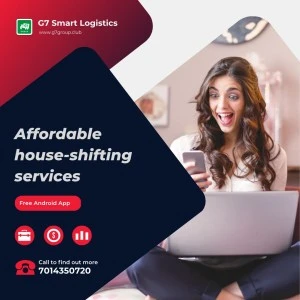 Other Blogs:
: 1. Bagged Packaged Goods, 2. Gadi with Gadi Wala, 3. Boxed Packaged Goods, 4. Online Jobs for Students, 5. Local Transport, 6. MP Transport and Transport Nagar Moving Quotes, 7. Freight Transportation Logistics, 8. Second Hand Trucks, 9. Moving Services, 10. Warehousing, 11. Cargo For Shipping, 12. Professional Packers and Movers in Bangalore, 13.Packers and Movers in Chennai, 14. Transporters in Delhi, 15.G7 House Shifting App, 16. Smooth and Stress-Free Relocation, 17. Join the Biggest Packers and Movers Group, 18. Truck Booking App in India, 19. Top Logistics Apps in India, 20. Join Transporters Group in India, 21. Top Transport Apps in India, 22. Car Transport in India, 23. Save Transport and Moving Costs, 24. Affordable Truck Booking Apps, 25. Starting a Packers and Movers Company, 26. Affordable House-Shifting Services in India, 27. Best-Rated Packers and Movers in India, 28. Packers and Movers App for Office Relocation, 29. Transport Bike from One City to Another, 30. Commercial Truck Booking App for Logistics Companies, 31. Packers and movers for long distance moving, 32. Top Truck Rental Apps for Local and Outstation Deliveries