The Impact of Technology on Transport Solutions in India: A Comprehensive Overview
Impact of Technology on transport solutions in India
Table of Contents
Intelligent Transport Systems (ITS)
Online ticketing and reservation systems
Introduction
As the second most populous country on the planet, India accommodates more than 1.3 billion inhabitants. With such an enormous population, it's no wonder that the demand for transportation solutions is always on the rise. In recent years, technology has played an indispensable role in transforming the transportation sector in India. From daily commutes to goods transportation, technology has revolutionized the way people and goods move from one place to another. This article delves into the significant influence of technology on transportation solutions in India, exploring the ways it has altered the industry's landscape. Here are some technological impacts affecting transport solutions:
Ride-hailing apps:
Ride-hailing applications have opened up economic prospects for individuals who aspire to pursue a career in driving. Through these apps, anyone with a car and a valid driving license can easily register as a driver and start earning a decent income. This has created ample employment opportunities for many individuals who were previously struggling to find work. Apart from this, the apps have also made transportation more affordable for people who cannot afford to own a car. The competitive pricing strategy of these ride-hailing apps makes them a compelling option for individuals who want to save money on transportation costs. As a matter of fact, our G7 App provides exceptional ride-hailing services where you can enjoy the best-priced riding facilities through our esteemed partners. Get your hands on our app today and experience a hassle-free transportation service!
The emergence of ride-hailing applications has presented a challenge for conventional taxi drivers, who are experiencing a decline in their business due to the new competition. Detractors contend that these apps have had an adverse effect on the environment, as the augmented number of cars on the streets has resulted in more traffic and pollution. However, despite these reservations, ride-hailing apps have revolutionized the way individuals commute, and their influence is projected to expand as technology advances and fresh contenders join the market.
Electric vehicles:
India is witnessing a surge in the popularity of electric vehicles (EVs), as the government strives to encourage sustainable transportation. The country is aiming to reduce its carbon footprint and lessen its reliance on fossil fuels, and promoting electric mobility is seen as a significant step in that direction. In addition, EVs are viewed as environmentally friendly and effective in curbing air pollution, which is a major concern in urban areas. Moreover, electric vehicles are more economical over the long term, requiring less maintenance and lower running costs than their conventional fossil-fuel counterparts. With technological advancements, EVs are becoming more affordable, letting a wider range of consumers access them.
The potential transformation led by the surge in the popularity of electric vehicles in India cannot be understated, as it could significantly increase the quality of life by revolutionizing how people commute. Besides being eco-friendly, electric vehicles present numerous benefits such as detracted noise pollution, heightened energy efficiency, and lower operational costs. It is anticipated that the move toward electric mobility will have a profound impact on the automotive industry, and the Indian government's endeavor toward electric vehicles is a commendable step toward a more sustainable future. However, to make electric cars more affordable to the public, more incentives and investments in charging infrastructure are necessary to promote their adoption and create a substantial impact on the country's transportation sector.
Intelligent Transport Systems (ITS):
Intelligent Transport Systems (ITS) pertain to a collection of inventive technological solutions built to augment the effectiveness, safety, and sustainability of transportation systems. These systems harness real-time data to manage traffic flow, enhance public transport, and promote road safety. ITS is having a substantial impact in India, where it is being employed to manage traffic flow in major urban areas. As a result, congestion has been reduced, leading to shorter travel times for commuters. Moreover, ITS is optimizing the use of public transport by ensuring buses and trains operate on schedule, thereby reducing passenger waiting times. ITS's capability to integrate data from diverse sources has made it an essential tool for tackling transportation challenges that cities encounter.
The implementation of Intelligent Transportation Systems (ITS) can contribute significantly to increasing road safety through the utilization of innovative technologies like lane departure warning systems, collision avoidance systems, and intelligent speed adaptation. By detecting potential hazards and warning drivers, ITS can significantly decrease the likelihood of accidents occurring. Additionally, the adoption of ITS has demonstrated a positive impact on the environmental sustainability of transportation systems, as it detracts from energy consumption and minimizes emissions. As the global need for eco-friendly and efficient transportation continues to rise, ITS integration into transport systems is projected to become increasingly prevalent and critical for the future of the transportation industry.
Online ticketing and reservation systems:
The advent of online ticketing and reservation systems has not only made booking easier and more convenient but has also significantly enhanced the accuracy and efficiency of the process. Travelers can now conveniently access up-to-date information regarding ticket availability, departure and arrival times, and other critical details, all in real-time. These systems have greatly minimized errors and confusion while making it more convenient for people to plan their trips. By adopting online ticketing and reservation systems, travel companies have successfully streamlined their operations, resulting in detracted costs and improved customer service. All in all, these systems have brought about a transformation in the way individuals book tickets, making travel more accessible and convenient for all.
Hyperloop technology:
Hyperloop technology is a highly anticipated mode of transportation for the future, with the potential to revolutionize the way we travel. Capable of reaching speeds of up to 700 miles per hour, it outpaces any other transportation method in terms of speed. Furthermore, the hyperloop system boasts energy efficiency and eco-friendliness, making it a sustainable option for transportation. Governments and companies across the globe are investing in the development of this technology, eager to see the benefits it can bring to the transportation industry. With the promise of reduced travel time, increased efficiency, and improved sustainability, hyperloop technology may hold the key to addressing the modern transportation challenges faced by societies today.
Shared mobility solutions:
Shared mobility options, including bike-sharing and car-sharing services, have become increasingly popular in India. Ride-sharing and shuttle services have also gained significant momentum in recent years. Uber and Ola are ride-sharing services that have transformed urban transportation by offering an affordable and efficient alternative to conventional taxis. On the other hand, shuttle services give a comfortable and convenient mode of travel within the city, with predetermined routes and schedules. By promoting shared mobility, these innovative solutions help detract traffic congestion and air pollution while also generating employment opportunities for drivers. These factors contribute to the overall growth of India's sharing economy.
Last-mile connectivity:
India's transportation infrastructure has long struggled with providing last-mile connectivity, especially in urban areas where commuters often face challenges reaching their destinations. A potential solution to this problem lies in adopting technology-driven alternatives, like e-rickshaws and e-bikes, which are not only eco-friendly but also affordable and efficient. These vehicles can easily navigate congested streets, reducing the burden on traditional modes of transportation. Additionally, ride-sharing platforms and smart mobility apps can significantly improve last-mile connectivity by enabling seamless integration of multiple modes of transportation and providing real-time information about available options to commuters. Leveraging technology to address this issue can greatly enhance the mobility experience of Indian citizens and reduce road congestion.
Smart parking systems:
The use of advanced technologies such as sensors, cameras, and mobile applications in smart parking systems can facilitate the real-time detection and provision of parking spot availability information. Drivers can conveniently access this information through digital signage or mobile applications, letting them speedily and easily find unoccupied parking spots. Furthermore, smart parking systems can effectively address the obstacle of traffic congestion and enhance air quality by minimizing the time drivers spend searching for parking. As urban areas expand and the demand for parking surges, the adoption of smart parking systems has become a pressing requirement.
Online Payments:
The transport industry has experienced a rapid evolution in technology, and as a result, online payment solutions have emerged as a revolutionary development. The traditional practice of paying for transport services with cash is becoming a thing of the past, thanks to the introduction of online payment choices that let passengers conveniently book and pay for their rides. Major ride-hailing platforms such as Uber and Ola have embraced this trend by providing diverse payment options that include credit and debit cards, digital wallets, and UPI payments. These payment solutions have simplified the payment process for passengers while enabling service providers to offer secure cashless transactions, reducing the risk of theft and fraud. You can use our G7 App where our partners may accept online payments. Click here to download the G7 Smart Logistics app now.
Apart from ride-hailing services, even public transport in India is gradually adopting digital payment solutions. In several cities, metro trains and buses now offer contactless smart card-based payment solutions, making it easy for passengers to travel without worrying about carrying cash.
Future
India has been facing several challenges in the transportation sector such as pollution, congestion, and scarce infrastructure. However, the future of transport solutions in India is thrilling with several new technologies set to revolutionize the sector further. Companies like G7 Smart Logistics are also facing and being ready for the change in the moving sector. Get our G7 App for any type of booking which is fully optimized.
The increasing adoption of Electric Vehicles (EVs) in India is driven by the government's initiatives to promote sustainable and clean transportation. This shift towards EVs not only addresses the issue of pollution but also significantly detracts from transportation costs. Moreover, the Indian government has launched various policies and incentives to encourage the use of EVs nationwide. With lower operational costs, minimal emissions, and a noise-free driving experience, EVs offer numerous advantages over traditional vehicles.
Self-driving cars, commonly referred to as autonomous vehicles, have gone from being a far-off fantasy to a near reality thanks to significant technological advancements. India is expected to witness the emergence of autonomous vehicles in the coming years, promising safer transportation and less traffic congestion. The vehicles are equipped with state-of-the-art sensors and communication technologies that enable them to navigate through traffic and make independent decisions without requiring human intervention.
The Hyperloop represents a revolutionary transportation system that employs magnetic levitation to propel vehicles at high speeds through vacuum-sealed tubes. While still undergoing testing, the potential benefits of this cutting-edge technology could be truly transformative, particularly in India where travel times could be dramatically reduced. With the capacity to connect major cities in India within mere minutes, the Hyperloop has the potential to revolutionize transportation, making it both faster and more efficient than ever before.
The usage of drones for delivering packages has already become passable in certain regions across the globe. The Indian transportation system is predicted to employ drones, specifically in regions with inadequate road networks. Drones have the potential to transport commodities and essential medical resources to remote areas that are not easily reachable via roads. Furthermore, they can help mitigate traffic jams in urban areas by delivering products straight to their intended locations without requiring human drivers.
The transport industry in India is set to experience a revolutionary modification with the introduction of online payment options. Alongside the latest technologies, digital wallets and UPI have become visible as game-changer, letting people do payments for transportation services without carrying cash. As a result, commuting has become a more comfortable and seamless experience for passengers.
The utilization of inventive technologies like autonomous vehicles, hyperloop, EVs, and drones signifies a bright future for transport solutions in India. These advancements are predicted to enhance transportation efficiency, sustainability, and cost-effectiveness significantly. Furthermore, the Indian government's efforts to promote electric mobility and implement online payment solutions are expected to have a remarkable influence on the transportation industry. As these technologies progress, we can anticipate an increasingly interconnected and streamlined transportation network throughout the country.
Conclusion
India's transportation options have significantly benefited from technology. Technology has revolutionized how people travel/transport, from ride-hailing applications to autonomous vehicles. Technology has also improved safety, efficiency, and environmental friendliness in the transportation sector. In order to lessen the nation's reliance on fossil fuels and reduce air pollution, the government's drive for electric vehicles is a positive move. The usage of online ticketing and reservation systems as well as intelligent transportation systems has also improved the effectiveness and convenience of transportation for individuals. Delivery times and travel durations between cities are being slashed with the use of hyperloop and drone technology.
Despite the progress made in the electric vehicle industry, significant hurdles remain. Insufficient infrastructure and the high price of electric vehicles continue to clog widespread adoption. Furthermore, the integration of autonomous driving technology has generated anxiety regarding safety and potential unemployment.
To tackle the obstacles ahead, it is imperative for the government to prioritize investment in electric vehicle infrastructure, including charging stations, while also lowering the cost of EVs to make them more accessible to the general public. In addition, regulations should be implemented to ensure the safety of passengers and other road users when it comes to self-driving cars. Overall, technology has revolutionized transportation in India by offering more efficient, eco-friendly, and safer alternatives such as electric vehicles, intelligent transport systems, online ticketing and reservation systems, drones, and hyperloop technology. Nonetheless, there are still hurdles to be overcome. Thus, the government should take action by developing infrastructure, reducing electric vehicle costs, and enforcing safety measures for self-driving cars.
G7 Smart Logistics App: Revolutionizing the Supply Chain Industry, Most Affordable Shifting and Moving services, Cost-effective Logistics Services in India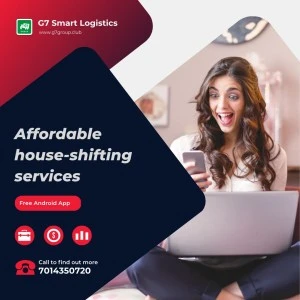 Other Blogs:
1 Bagged Packaged Goods, 2. Gadi with Gadi Wala, 3. Boxed Packaged Goods, 4. Online Jobs for Students, 5. Local Transport, 6. MP Transport and Transport Nagar Moving Quotes, 7. Freight Transportation Logistics, 8. Second Hand Trucks, 9. Moving Services, 10. Warehousing, 11. Cargo For Shipping, 12. Professional Packers and Movers in Bangalore, 13.Packers and Movers in Chennai, 14. Transporters in Delhi, 15.G7 House Shifting App, 16. Smooth and Stress-Free Relocation, 17. Join the Biggest Packers and Movers Group, 18. Truck Booking App in India, 19. Top Logistics Apps in India, 20. Join Transporters Group in India, 21. Top Transport Apps in India, 22. Car Transport in India, 23. Save Transport and Moving Costs, 24. Affordable Truck Booking Apps, 25. Starting a Packers and Movers Company, 26. Affordable House-Shifting Services in India, 27. Best-Rated Packers and Movers in India, 28. Packers and Movers App for Office Relocation, 29. Transport Bike from One City to Another, 30. Commercial Truck Booking App for Logistics Companies, 31. Packers and movers for long distance moving, 32. Top Truck Rental Apps for Local and Outstation Deliveries