Grow Truck, Transport and Logistics Business in India, Get Online Loads, Trucks and Bookings for your Transport Company
Are you a Moving Service Provider looking to grow your Logistics business in India?
G7 Smart Logistics helps you to expand your customer base & grow your Truck, Transport, Packers, and Movers business. G7 Group will help you connect with potential customers easily. 1 million+ people have connected with G7 verified Transporters, packers, and movers. Thousands of best Transporters in Delhi, Gurgaon, Noida, Mumbai, Banglore, and across India are using the G7 Smart Logistics Partner App to manage and expand their business.
Partner with G7 Logistics, Get Regular Trips, Start Better Earning, No More waiting for Bookings, Loads, and Enquiry for Transport Business Across India. Earn Extra Money, No more wasting time, Diesel, Toll, etc, Get Bookings of Home Shifting, Commercial Shifting, Load Shifting, and Luggage Transport
Now G7 is Powerful Marketing Platform to Grow all Your Transportation Business in India
About G7 Smart Logistics, Transporters App
G7 Smart Logistics Packers and Movers App is a fully Tech oriented App, which helps to search for Verified, reputable and professional Transporters, packers, and movers service providers in India. Our sole aim is to act as a guiding partner to the customers and help them to find the best relocation companies, trucks, packers, and movers offering world-class services with a simple click of a Button.
Get Full / Part Truck Load Online or Promote your Truck Transport Business Online
Install Now to Join India's biggest & Most trusted Transport Community and Marketplace for Road Transporters,
Trucks Owners & Consignors.


Prominent G7 App
Features for Transport

Service Providers to Grow Personal & Trusted Transport Network
Signup Now G7 to get your business listed
Start receiving Transport leads and Shifting inquiries relevant to your business and Location
Never miss a lead or booking, with real-time alert notifications on the app
if Interested Respond back and Call the customer directly through the app
Respond to inquiries anytime, anywhere Across India
How to
Start Transport Business

and Get Leads with G7. Partner App

To Start Transport Business anywhere in India you are required to download the application G7 from Google Play Store on your phone and sign in with your registered mobile number. Select the Vehicles and Services you want to provide and submit your document on Whatsapp. Just Submit documents that prove you are doing Transport business.
Transport business plan ab har Truck Transporter ko milega Online Business
G7.
If you have Trucks, or you are a Transporter then G7 Smart Logistics is the best Aggregator which provides a great opportunity to earn extra money. Set your own schedule and enjoy full transparency with G7. See the Pickup and drop-off location and call directly to the customer for fare and terms before accepting the booking request. Expand your Tempo, Truck, Transport, Packers and Movers business with G7 Logistics

✓ Increase Earnings - Maximize your fleet, Leads, and Bookings and maximize profit.
✓ Enjoy Flexible Time - Accept delivery jobs whenever you want.
✓ Earn Extra Money – Earn extra money every time you refer G7 to your friends.
✓ Grow Your Network - Meet new people, and transporters and build your connection.

Best of all, Zero commission means you earn more driving with G7 Logistics

Become your own Boss today! Join G7 Group, Attach your tempos, Trucks, Trailers, and Containers. Get a full or part Truckload and Bookings according to your own requirement. Be a part of the truck transport network of 8150+ Transporters and Fleet Owners who have successfully grown their Truck business with G7. We provide part truck load and full truck load to our partners. Attach your commercial goods vehicle with G7 and earn income by renting it!
Transport Company
Document Format

by G7 Smart Logistics

Format and template for Transport Companies, Feel Free to Download, Modify and distribute as you like.

Click below links to download it for free
Invoice or Bill Format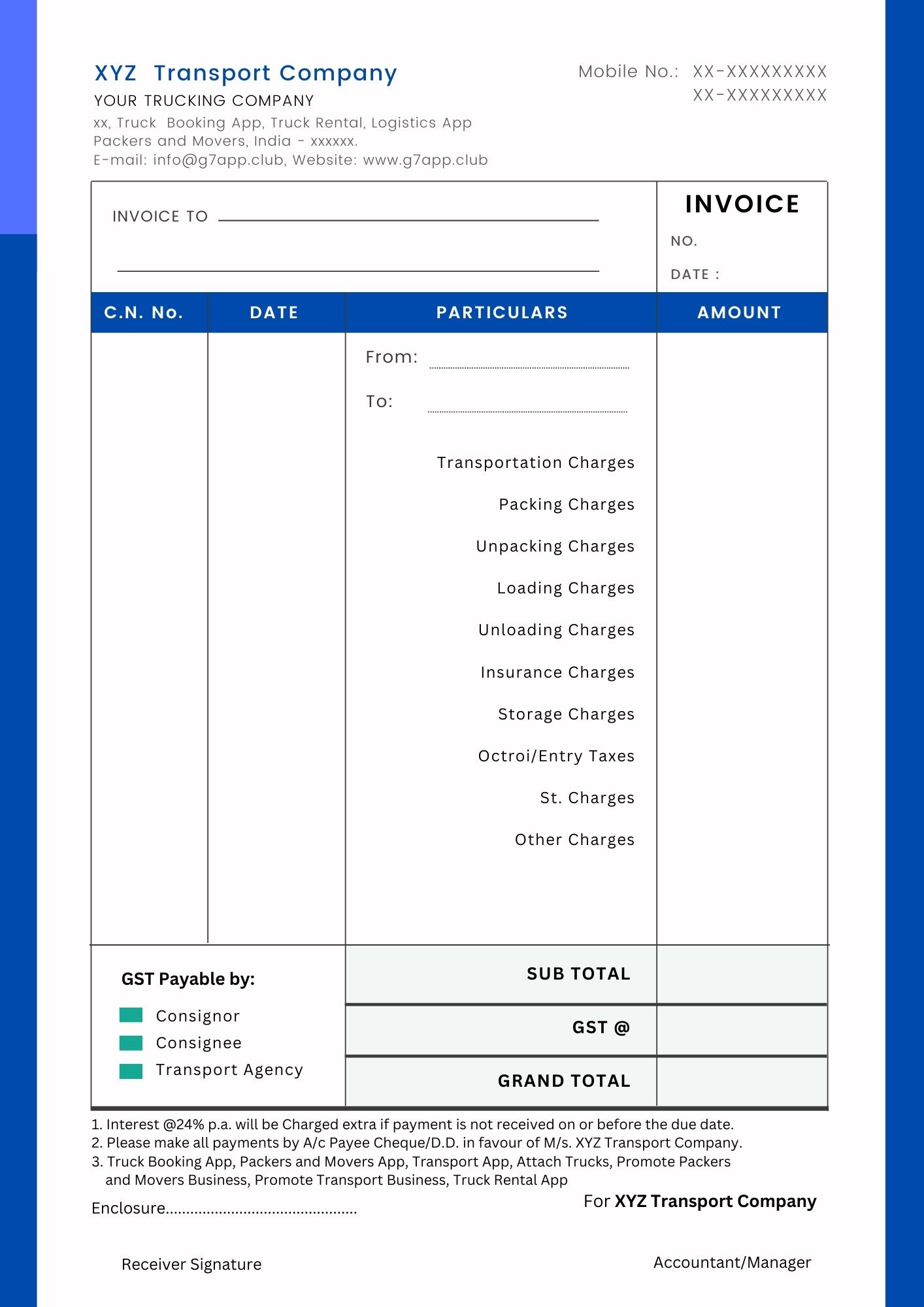 Invoice Pdf Format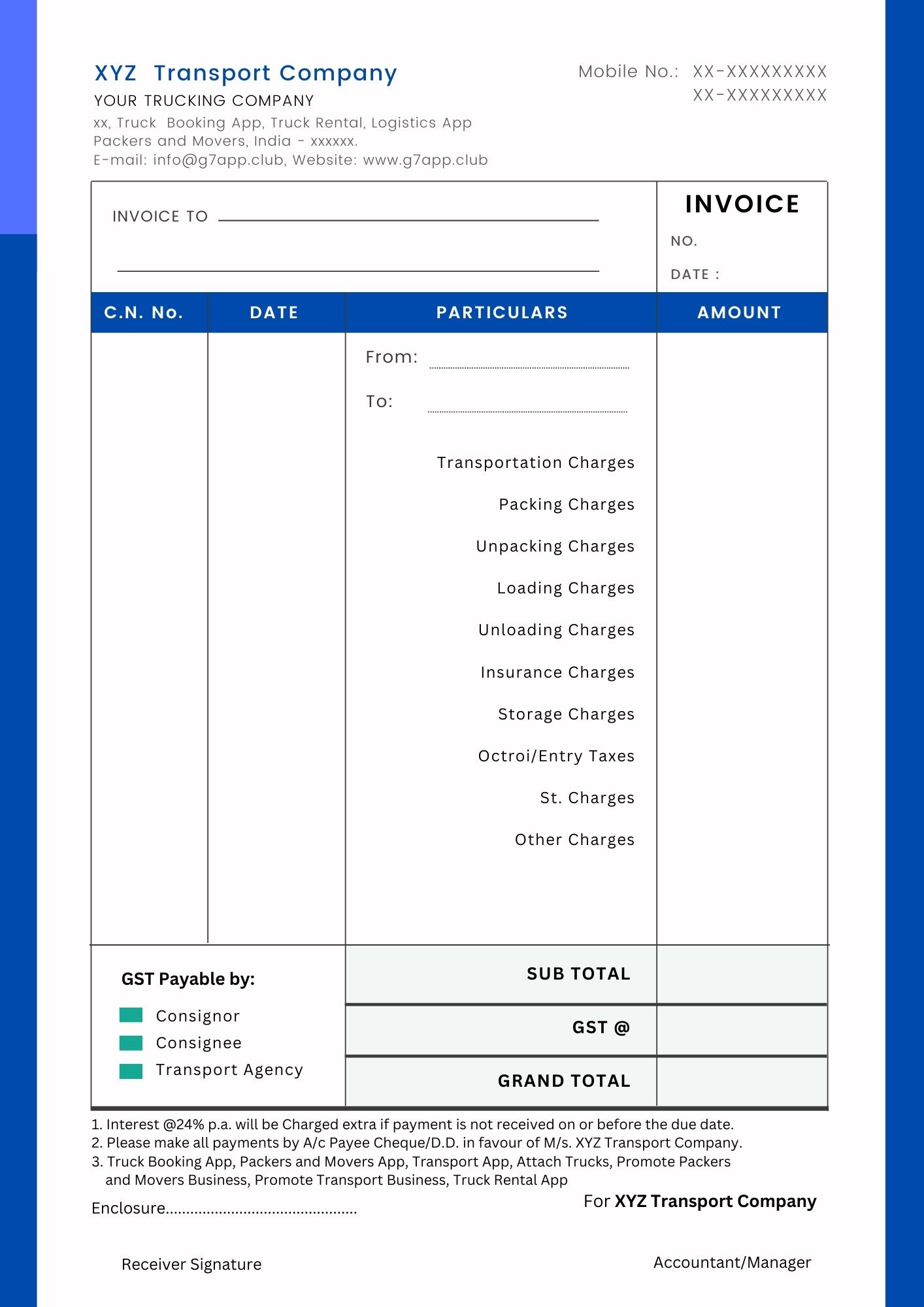 Invoice jpg Format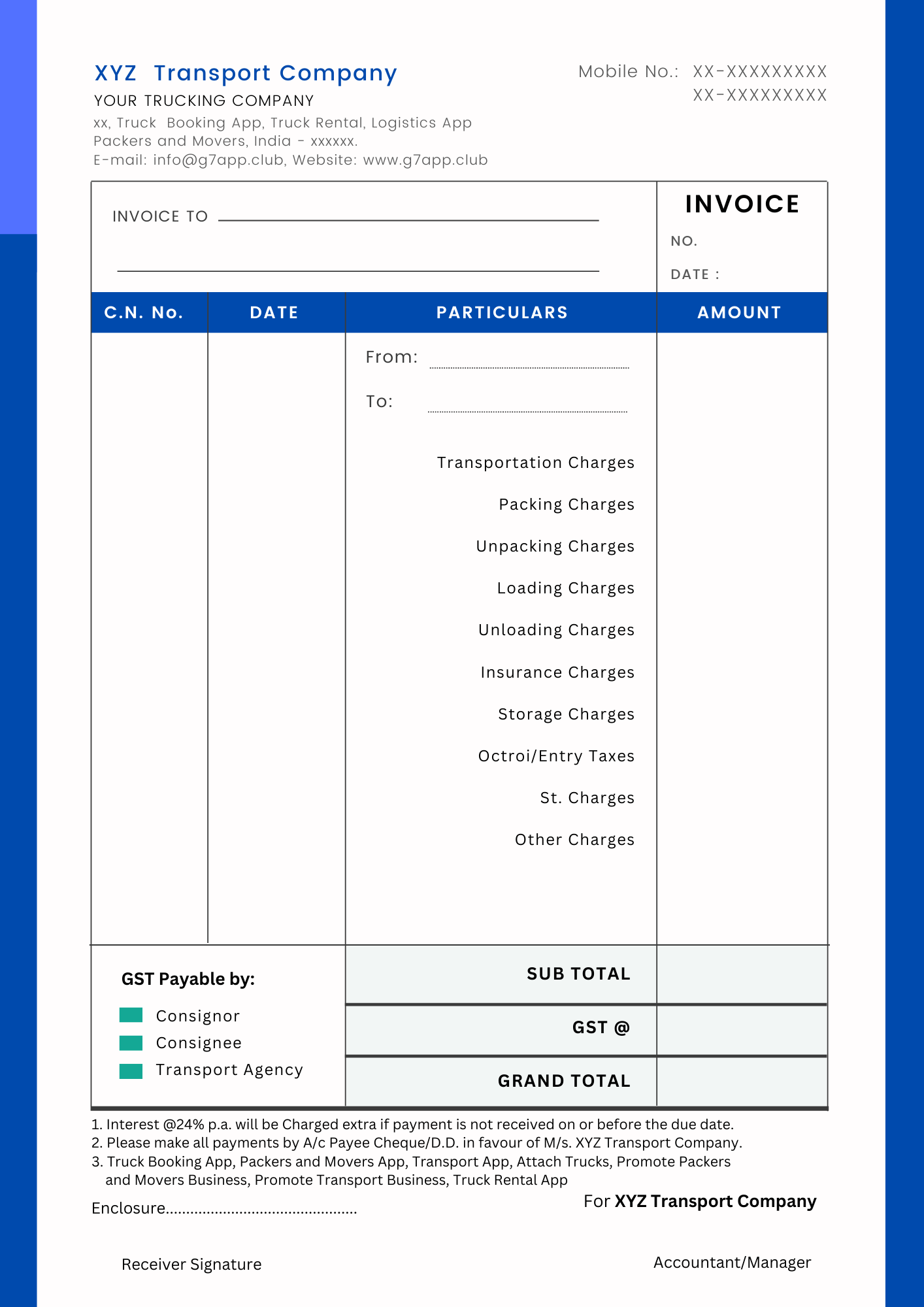 Invoice png Format
Quotation Format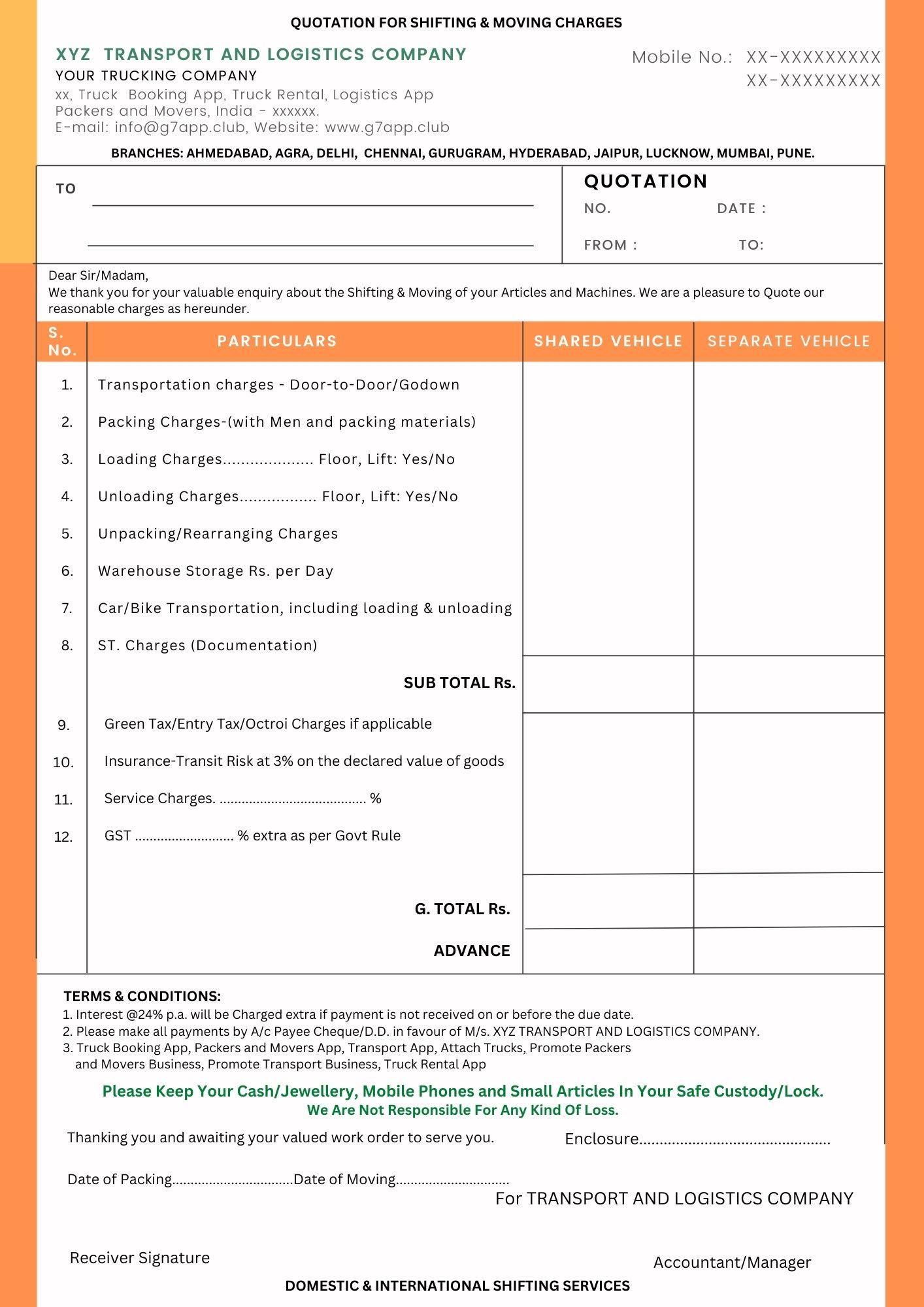 Quotation Pdf Format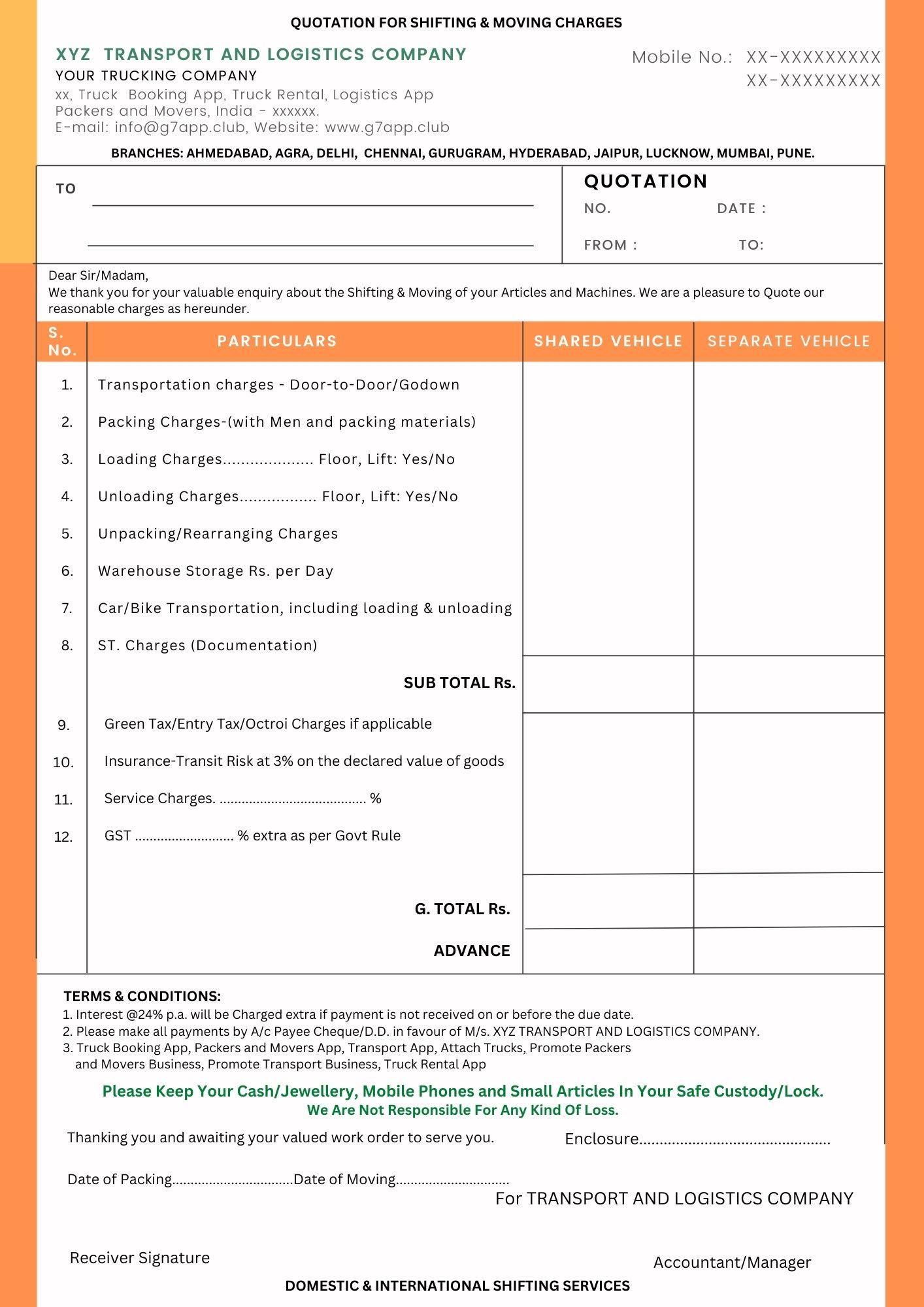 Quotation jpg Format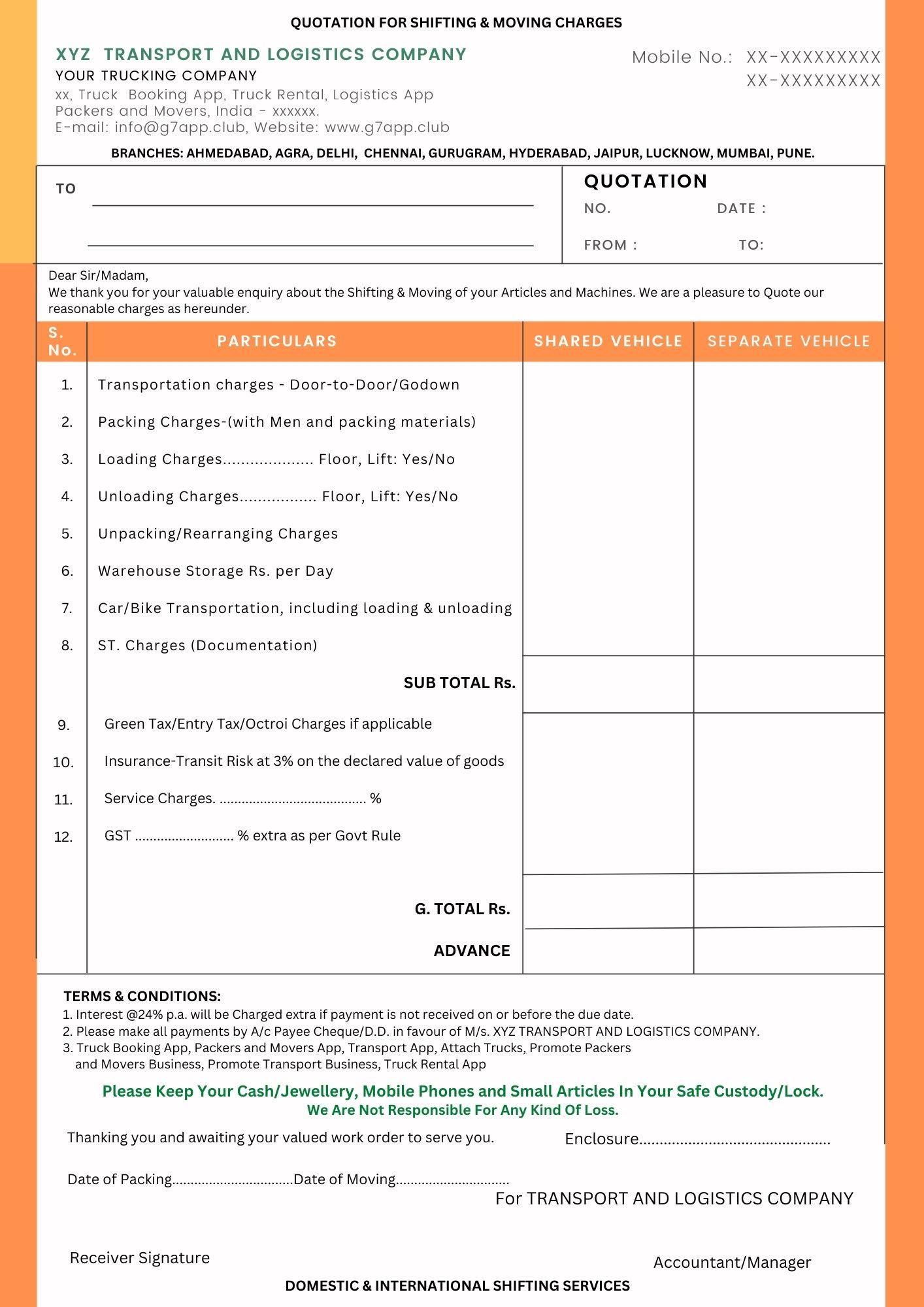 Quotation png Format
User-Friendly Single App for Users and Partners
Power of App G7 Smart Logistics
to Grow your Transport Business

in Your Pocket
Get Bookings and Leads of Trucks, Trailers, Transporters, Packers, and Movers across India

G7 App is Now Available in All Major Indian Languages

Promote your Transport Business Online

Post Truck to Avoid Empty Return Trips

Get Online Bookings and Loads Inquiry Alerts of Your Area.

Connect with India's Best and Verified Trucks and Fleet Owners, Transporters, Packers, and Movers to Grow your Business

Discuss Trucks, Transport and Logistics Current Issues and Participate with the India's Biggest Transporters, Packers and Movers Groups

And a lot more...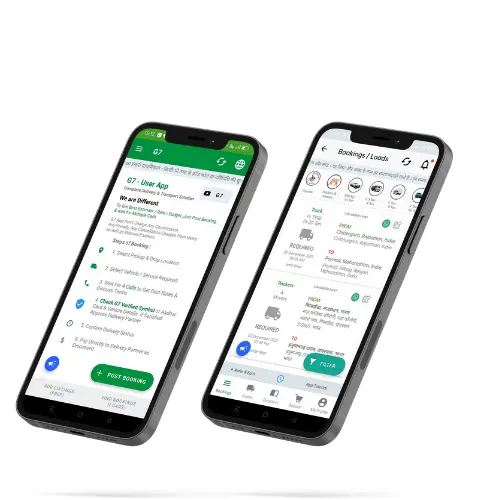 How much Investment Required to Promote Transport business on G7 Smart Logistics in India?
You have to pay only Rs. 110/- for the verification fee and you will get a free trial for 1 month after that Make Just Monthly payments of 380/- Rs. through multiple channels like debit/credit card, net banking, etc.

👍 BENEFITS OF JOINING G7 Smart Logistics:

• Consistent flow of order which means more earnings.
• Choose your time of work to earn extra cash.
• Discuss directly with customers for pricing, Zero Commission.
• Get your money directly from the customer to your bank account or Cash.
• Get support any time from us in case of any issue.
• Better Insurance Rates.
• Easy UI to get more and more leads and bookings.
• Training videos to learn to earn more.
• Earn more with Free Trucks and Truck Bazaar options.
• Check the customer's pickup and drop location before the trip.
• Get extra money by referring to your friends.

So if you are searching for truck Loads and Bookings near you, look no further! Join G7 Smart Logistics Partner App.
Guaranteed Results Rank on Google Top Pages From 1st Month
Build your single-page Transport website with us today
@ Rs. 4200/-
Boost your Logistics Business with G7

Free Web Hosting and Domain

Mobile Friendly website.

SEO Optimised

Best Graphics Quality

Delivery in 36 Hours

Google Ad Campaign and Facebook Ad Campaign Setup in Just Rs. 1000/-

And a lot more...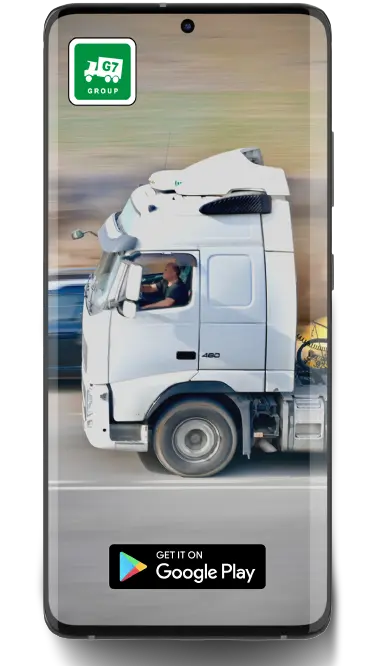 SEO and ASO SERVICES FOR TRANSPORTERS AND LOGISTICS COMPANIES

by G7 Smart Logistics

Search engine optimization (SEO) and App Store Optimization (ASO) are the best ways to optimize your Transport and Logistics Website and App. The G7 team helps you to improve your Transport website, app, and business ranking with advanced tested SEO and ASO techniques. Choose G7 Smart Logistics as your SEO and ASO partner. We give you 100% verified leads, Bookings, and results as you want.

Our Website, App Developers, and SEO Experts are always ready to help. Contact us Today For:
Create a Free Listing on Google My Business
Design Mobile Friendly Logistics Website and App
Optimize Your Website and App
Increase Your SEO Authority to Increase Your Reach
Increase Your Website Page Speed & Reduce your Bounce Rate
Take your Transport and Logistic
business to the next level

with our services

All Transport and Logistics Companies want to grow up their business and want to rank their website in google search engines. G7 helps You to appear on google searches, we make sure customers notice you. Boost your Transport Business with G7, Our Professional team advises the latest technology to grow your business at a very affordable Price. For More Details Check our website Speed, Rank, and Quality Now.
General FAQs related to Transport and Transportation Business in India
How To Start and Attach a Transport Company in India?
Transport Industry is the most profit-making logistics industry in India. Just Select the Ideal Category for you. Evaluate the pros and cons, Fulfill all legal requirements, Print the required documents, Boards and Banners, If required invest in vehicles, establish a proper team and register yourself on G7 Smart Logistics and Start a wonderful transport business.
How to get clients for transport business?
To Promote Transportation Business speedily in India and attract customers, first Create Business Cards, Second Start Making Sales Calls, Third Create A Website, Promote On Social Media, Free List your business on G7 Smart Logistics, registered yourself on G7, Submit Documents for verification purpose and after verification get More and More clients for your Business.
How do Transport companies find clients?
Logistics in India is a huge market. Transport Companies find clients To grow their business by Building their brand, and they acquire leads through G7 Smart Logistics App. Which is India's No. 1 Transport App, Works without any commission
What Do Transporting Companies Do?
Transporting Companies transport goods or passengers from one location to another.
What Is the Best App for Transporters?
To get goods at the right place and at the right time Use G7 Smart Logistic App. G7 helps to find trucks, loads and bookings, you can expand your transport network, and grow your business in India. It works without any commissions! Just Download the G7 app and get the best deals. works in all parts of the country.
Final words:
Transport business and their assistance to people, is an essential activity in the fast-growing society. G7 is a user-friendly app and its helpful features are very useful for all businesses, individual Customers and users! Install G7 for the best transportation and logistics services. G7 connects you with Verified transporters all over India and helps to take your business to the next level.
Promote Your Transport Business Online | Get Machines, Goods, House, Car, Bike, Flats, and Room Shifting leads and Booking Now.
India's #1 Top Verified Transporters, Packers and Movers Group, Work without commission Across India
साथी बिजनेस का, Packers and Movers App,
Transporters App
Head Office:
D-301, 209, 2nd Floor, Parasmani Complex,
Nada Khada Chowk, Bapu Bazar,
Udaipur (Raj.) - 313001

Time: 10.00 AM - 6.00 PM
Days: Monday - Saturday
---
G7 Smart Logistics
Mobile: +91 7014350720
WhatsApp: +91 7014350720
General Enquiries
khitsinstitute@gmail.com
To Attach Trucks, Tempo's Contact
khitsinstitute@gmail.com
Made with ❤️ in India
G7 is an online trustworthy truck booking platform
and House Shifting App connecting Packers, Movers, transporters, truck owners, Transport and logistics companies. Post your enquiry, attach lorries, book trucks, Packers and Movers or Transporter online.
G7 Smart Logistics
is leading transport and logistics service provider delivering customized and economical online
transportation and Logistics solutions
with just a simple click on your mobile. We offers an
advanced and cheaper way
to book a truck quickly without moving out from your house, office, Shop or factory.
G7 Smart Logistics
[Packers and Movers App,
Transporters App]
For All Your Shifting &
Moving Needs
[ BOOK / HIRE ]
TO GROW YOUR BUSINESS
[ ATTACH / JOIN ]