Our G7 portal [Packers and Movers App] works on the newest technology and presents an easy interface. Using Moving Solutions G7 App [portal] to eliminate the hassles and time of choosing packers and movers in India.
The popular reasons to settle on G7 Packers and Movers & Moving Solutions are:
Verified, older, and credible packer and movers
User-friendly app [platform] and fast booking of the most effective service supplier
No obligation, free quotations from top 4 G7 verified nearby mover and packer in India
Unbiased reviews and ratings of G7 partner
Moving tips, relocation guide, and authentic information
Deal directly with the Packers and movers, No Broker, No Commission.
Four Packers and movers Estimates to understand approximate shifting charges
Excellent client support by telephony and email
Benefits and advantages of hiring packer and mover with the
G7 Smart Logistics App
No Brokers, Zero Commission of G7 to save up to 40% of Cost
G7 Packers and movers care about the safety of your goods.
Less work for yourself
Packers and movers give you insurance for transit if you need it.
Use the proper packing strategies and materials.
G7 Packers and Movers facilitate the speedup of the method of shifting.
Just download the app G7 Smart Logistics, Packers and Movers, Transporters App.
It's super straightforward, simple to use, and comes with superb features:
Get it on Google Play
Step 1: Simply download/Install G7 Packers and Movers, Transporters App.
Step 2: Choose your Pickup and Drop Location and the Vehicle or Service you need and Post The booking.
Step 3: Stay up for four calls. Discuss details with vendors, and book if you're happy.
With G7 Smart Logistics, you can find the best professional G7 Verified packers and movers who bring the most trusted house shifting services in India. Once you download our app G7, you'll be able to simply post your shifting necessities through the app.
Hire the Top 10 Best Packers and Movers to save up to 40% Cost
Get four Free Quotes from high-rated verified vendors of India like Agrawal Packers and Movers, Perfect Packers and Movers, Star Packers and Movers etc. Expert in household, business, and Commercial Shifting and moving, from pieces of furniture moving to car moving services. Getting reasonable rates. If you are looking for a professional Packers and Movers app and transport services for local moving or interstate moving in India, G7 helps you save up to 40%! There aren't any hidden prices and no surprises on your moving day.
The facility of Mobile App:
A single Mobile App for the user and partner G7 Smart Logistics provides the most seamless way to book Trucks, Tempos, Trailers, & Containers, Transporters, Packers & Movers Online and Across India without any commission.
Discover Packers Movers App, Find Trucks, Loads, Bookings, Transporters
or Packers and Movers
Attach your Trucks, Mini Trucks, tempos, trailers, Cars, and containers to search out online Trucks, lorries, loads and bookings. Connect with India's Best Verified Transporters, Packers, and Movers to solve all your logistics requirements.
Packers and Movers
Trucks, Tempos, Trailers Booking App
of India
Use post Load or Bookings
to find Verified Trucks,
Transporters & Packers,
and Movers Service Providers in India
or your required area.
Packers and Movers
App No.1 Booking
Platform of
India
Hire the Best Packers
and Movers for All Shifting
and moving Purposes
in India.
Best for Local & Out Station Moving
Online Truck:
Means of
Transport App
and directory
Post Free Listing to
get more leads of India
and get a Free Digital
Visiting Card for your truck
means of Transport Business.
Truck Bazaar
and
Transporters Group
of India
To Sell or Purchase
All Types of old and new
vehicles, Trucks, Trailers,
Tempos, and Containers
without any Commission
G7 Packers and Movers App Offers Quality and reliable Packing and Moving Services to Indian Customers.
If you are searching for truck or transportation services for business or personal needs? Or Packers and Movers service to move products anyplace within the town of India.
With G7 Smart Logistics Packers and Movers App:
Book a slot for your relocation date and time.
Get immediate four quotes supported by your specifications.
Get the Best Deals & Discounts on your moving budget.
Confirm your move directly with the vendor.
Relax, the packers and movers will show up at the determined location at the correct time.
You can request a quotation 24/7
Book anyplace, anytime, anywhere in India
User-Friendly Single Packers and Movers Transport App for Users and Partners
The power of App G7 Smart Logistics, (Transporters, Movers, and Packers App)

In Your Pocket
Book or Attach Trucks, Trailers, Transporters, Packers and Movers

All Major Indian Languages are available in G7 App

Get Instant Bookings Alerts of Your Vehicles in your required Area

Connect with India's Best Fleet Owners, Trucks, Transporters, Packers, and Movers to Grow your Business

Discuss Transport Current Issues and Participate Directly, India's Biggest Transporters Groups

And a lot more...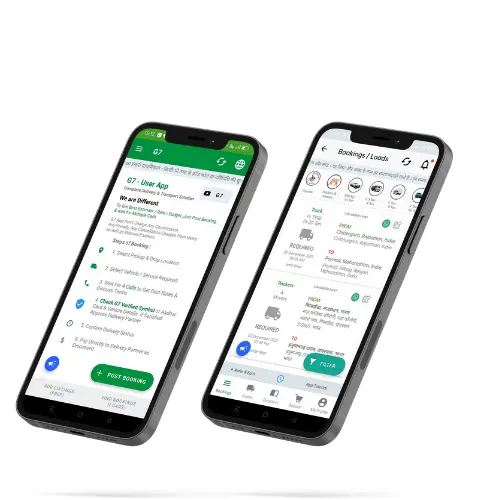 G7 Packers and Movers Charges
Get Home Shifting Service at a reliable worth, No Hidden price, Hire the Best Packers and Movers in India. After we talk about the costs of house shifting services, Car or bike shifting in India, there are many factors that make a difference and want to be thought about.
Distance covered by the products while relocation
Quantity of the goods and products
Quality of packaging material
Insurance cost
Speed of transportation
The experience of the company and plenty of a lot of.
You get calls from 4 G7 Verified Packers and Movers to own a thought of the approximate charges for home shifting in India. When the detailed discussion & assessment, you may receive an elaborate quotation.
G7 is the solution to all your logistics & freight issues. Single app for business & industrial deliveries, shifting house, room, furniture & office workplace, for your intracity, intercity, or interstate needs. Complete online B2B and B2C Transport and Logistics Solution.
G7 takes care of all your needs & provides on-time delivery for your goods & parcels.
Almira Wooden-Big/Small
Almira Steel-Big/Small
Air Conditioner
Air Cooler
Aquaguard
Aquarium-Big/Small
Bags/Bean Bag
Bathtubs/Buckets
Babycot
Books/Book Stand
Bike/Scooter
Canesten-3+2
Car
Carpet
Chairs-Foldable
Chairs - Fixed
Chest of Drawer
Clothes
Cloth Stand / Cloth Rack
Computer System
Computer Table
Cot-Single-Box/Dismantable
Cot-Double-Box/Dismantable Cooking Range
Crockery Items
Cycle/Exercise Cycle
Deewan Cot-Box Type
Deewan Cot-Dismantable
Dining Table Reg-4+1/6+1
Dining Table Std-4+1/6+1
Dressing Table
Drum-Plastic/Steel
Electronic Items
Electric Items
Fan-Ceiling/Table
Fan-Standing/Exhaust
Flower Pots
Foot Stand/Box
Gas Stove
Gas Cylinders
Geyser
Inverter/UPS/Batteries
Jhula
Mattress-Regular
Mattress-Box Type
Machine-Big / Small
Micro oven
Mixer Grinder
Music System
Motor Cycle / Moped
Racks-Steel / wooden
Refrigerator..........Lt.
Rest Hanging Chair
Sewing Machine
Serving Trolley
Showcase
Show Pieces
Sofa set wooden - 2+1
Sofa set Leather - 2+1
Suitcase / Trunks
Toys
T.V./LCD-Small / Big
T.V. Home Theatre
TV Stand / T.V. Trolley
Table-Study / Center
Table-Side
Table-Corner
Utensils
Washing Machine
Wall Units
FAQs associated with a way to rent, or hire Packers & Movers in India
Which packers and movers are best in India?
It is very difficult to say who is the best packer and mover in India. If you are searching for some reliable, genuine, and verified packers and movers, you have to Download Free Mobile App G7 App from the google play store.
Are the listed Packers and Movers companies on G7 Smart Logistics verified?
Yes, all the listed Packers and Movers Companies on G7 are verified and authenticated. Our Team checks the required document carefully and keeps an eye on every complaint and review.
What are some tips for selecting mover and packer in India?
Avoid fake packers and movers by Visiting their office, Real all the quotations and consignment notes carefully, or simply go to the google play store and download India's No. 1 Packers and Movers App G7, and Find the best packing & moving company like Agrawal Packers and Movers, TrueWay Packers & Movers, Fast Track packer and Movers according to your budget and preferences.
Top 10 movers and packers in India, with their contact details?
Agarwal Packers and Movers, A1 Packers and Movers, Star Packers and Movers, National Packers and Movers, Riddhi Siddhi Packers and Movers, Diya Home Logistics, and Delivery Cargo Packers and Movers all are available on the G7 Packers and Movers App.
Does G7 Packers and Movers charge from the end user?
No, G7 never charges a single penny from the users who want to book vehicles and transport Service for their Shifting Requirement
Which are the best alternatives for Agarwal packers and movers?
To Find the best alternatives for Agrawal packers and movers post your requirement on G7 Packers and Movers. You will get 4 relevant G7 Verified Packers and Movers Companies to select the best suitable for you.
Which are some good budget movers and packers companies in India?
Book the top budget packers and movers through an online verified portal (Free Android App) G7 Packers and Movers and enjoy the memorable home shifting
How to find a Reliable Relocation Company, Home Shifting Company in India?
Hiring a "Safer, Faster, Verified and Affordable" packer and mover has never been such an easier task as it is today. Try Today's G7 Packers and movers app for a smooth, joyful, and happier experience.
What are the charges of transporters or packers and movers for shifting goods and Household Items?
Charges for Transporting Goods or shifting households depend on many factors:
Size of the Goods & house:

The smaller the size of items and the house charges less and the larger the size of items and the house charges are heavy.

Weight and Quantity (Numbers) of Goods:

More weight or more numbers of goods means the more amount you have to pay. Because they need more space and more care.

Distance, Road Condition, and Location:

Distance, Road Condition and Location matter a lot because travel time depends on all these factors.

Reputation, Brand, and Goodwill of the Company:

Highly reputed company charges more than compared to other companies but they may provide you best service too.

Type of Vehicle:

Charges also depend on the type of vehicle you want to hire. Many types of vehicles are available in the market. Shared vehicle charge less than a dedicated vehicle.

Location of the City of State:

The charges also depend on the Pickup location and drop location, city, and State. Because labour and Toll Charges etc. vary from place to place.

Insurance:

Charges also depend on the insurance of your products.

Quality of Service and Packing Material:

Moving and Transport company charges according to the Quality of Service and Packing Material.

Time, Festivals, and Seasons:

In festivals like Diwali, Dhantersh, and Holi, it is very typical to arrange labour so charges are high during Festival Times, Weekdays, and Peak Seasons compared to regular working days.
Watch Video for Tips & Tricks for Hiring Best and Top Verified Packers and Movers in India
साथी बिजनेस का, Packers and Movers App,
Transporters App
Head Office:
D-301, 209, 2nd Floor, Parasmani Complex,
Nada Khada Chowk, Bapu Bazar,
Udaipur (Raj.) - 313001

Time: 10.00 AM - 6.00 PM
Days: Monday - Saturday
---
G7 Smart Logistics
Mobile: +91 7014350720
WhatsApp: +91 7014350720
General Enquiries
khitsinstitute@gmail.com
To Attach Trucks, Tempo's Contact
khitsinstitute@gmail.com
Made with ❤️ in India
G7 is an online trustworthy truck booking platform
and House Shifting App connecting Packers, Movers, transporters, truck owners, Transport and logistics companies. Post your enquiry, attach lorries, book trucks, Packers and Movers or Transporter online.
G7 Smart Logistics
is leading transport and logistics service provider delivering customized and economical online
transportation and Logistics solutions
with just a simple click on your mobile. We offers an
advanced and cheaper way
to book a truck quickly without moving out from your house, office, Shop or factory.
G7 Smart Logistics
[Packers and Movers App,
Transporters App]
For All Your Shifting &
Moving Needs
[ BOOK / HIRE ]
TO GROW YOUR BUSINESS
[ ATTACH / JOIN ]