Best
Truck Rental App

of India:
[G7 Packer and Mover , Transporters App]
No.1 Truck Rental, Packer and Movers App, Complete Online B2B and B2C Transport & Logistics Solution.
Hire the Best, Professional, and Verified Packers and Movers, Trucks, Tempo's, Trailers, and Containers in MUMBAI, BANGALORE, DELHI, GURGAON, CHENNAI, PUNE, HYDERABAD, Ahmedabad, and Pan India.
Hire - Attach - Join - Book
Trucks, Tempo, Trailers, Containers, Packers & Movers, Transporters, Cabs, etc. Across India
ट्रक, टेम्पो, ट्रेलर, ट्रांसपोर्टर्स, पैकर्स एंड मूवर्स बुक करें । सभी गाड़ियों को अटैच करे और लोड बुकिंग प्राप्त करे
Post your Loads, Business Goods, Household Goods, Furniture, Trucks, or Bookings online for Personal or Business Shifting. Join the Biggest Group of India.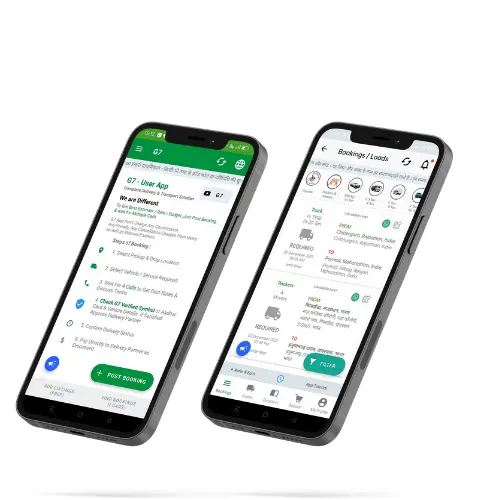 The G7 Smart Logistics, Packers and Movers, Truck Rental App Features
Book - Attach - Hire - Join
Tempoo, Trucks, Trailer, Tata 407, Containers, Transporters or Packers & Movers across India

G7 User / Customer App
Seamlessly Book or Hire Trucks, Transporters, Packers and Movers with your Mobile Phones

Post Booking
Receive 4 Relevant Calls & Free quotes for the best prices

Languages
Multi Language with Audio Support on All Pages, We support all major Indian languages

Bookings
Incomplete Nearby Bookings. Call the customer directly.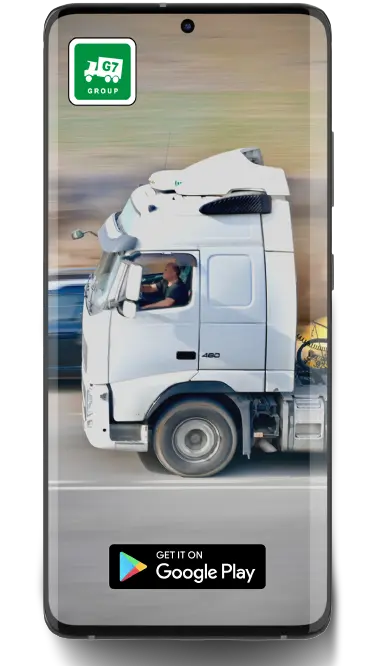 Free Trucks
Avoid Empty Return Trips Save toll, Diesel Cost to earn more.

Free Listings
Increase Visibility to Grow your Business Across India. Free Digital Visiting Cards

Truck Bazaar
Buy and Sell Old and New Trucks & Other vehicles across India

Verified Partners
All G7 Partners' Documents have been Verified
One Stop Solution for All, No Commission, No Penalty, No Cancellation Charges.
✅ Need Packers and Movers??
✅ Need Room Shifting Services??
✅ Need Transporters??
✅ Need Loading Vehicles??
✅ Need Courier & Parcel Delivery Service??
✅ Need Tempo, Trucks, Container, Trailers etc.??
✅ Need truck booking app??
Screenshots of the Truck Rental, Mover and Packer, truck booking app G7
User-Friendly App Work 24/7, Also in Lockdown
Best for House, Office, Room, Car, Bike, Furniture, Machines, and Commercial Shifting & Moving Services
Hire Top Packers & Movers, Transporters and Trucks
घर, दुकान, फैक्ट्री और ऑफिस का माल, पार्सल, समान भेजने और मंगवाने के लिए Tempo, Truck, Containers, Trailers, Transporters, Packers and Movers बुक करे अपने स्मार्टफोन से ।
बुक करे या अटैच करे या ज्वाइन करे और जुड़े भारत के सबसे बड़े ट्रांसपोर्टर्स, पैकर्स व मूवर्स और गाड़ी मालिकों के ग्रुप से ।
How G7 truck booking app Works
Post Booking of Your Required Truck, Transporters, Packers, and Mover on App G7
Our System Finds and Send Notification nearest Trucks, Transporters, Packers, and Movers For You
Get 4 Relevant Calls and Estimates from G7 Verified Partners, Discuss and Deal Directly without any commission
The team behind G7 Truck Booking App
Dedicated Experienced Team,
Working 24/7 to help the Driver, Helpers, Transporter, Packers, and Movers Community.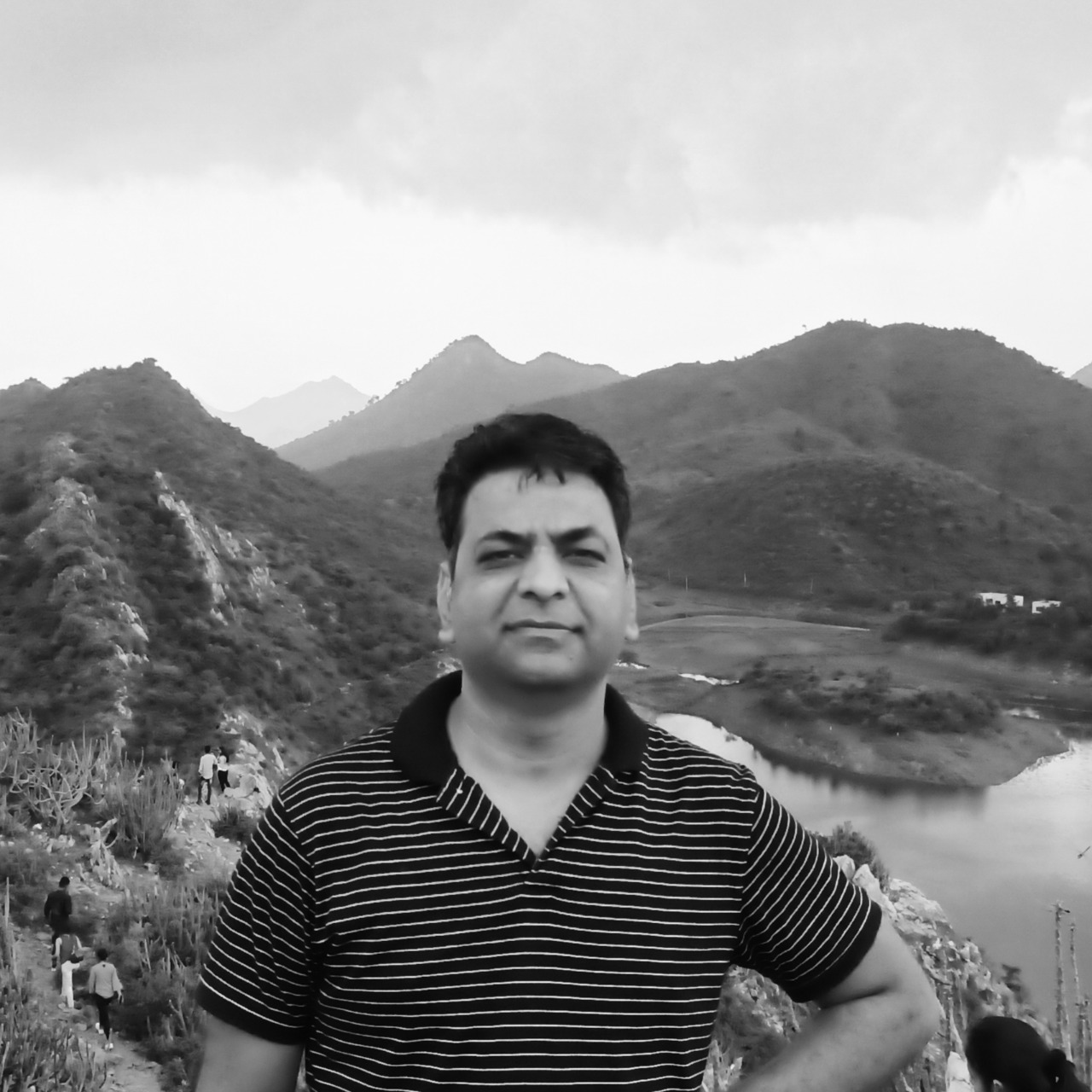 Amit Agrawal
CEO
Industrialist, Vast Experience of more than 14 Years in the Manufacturing & Training Industry.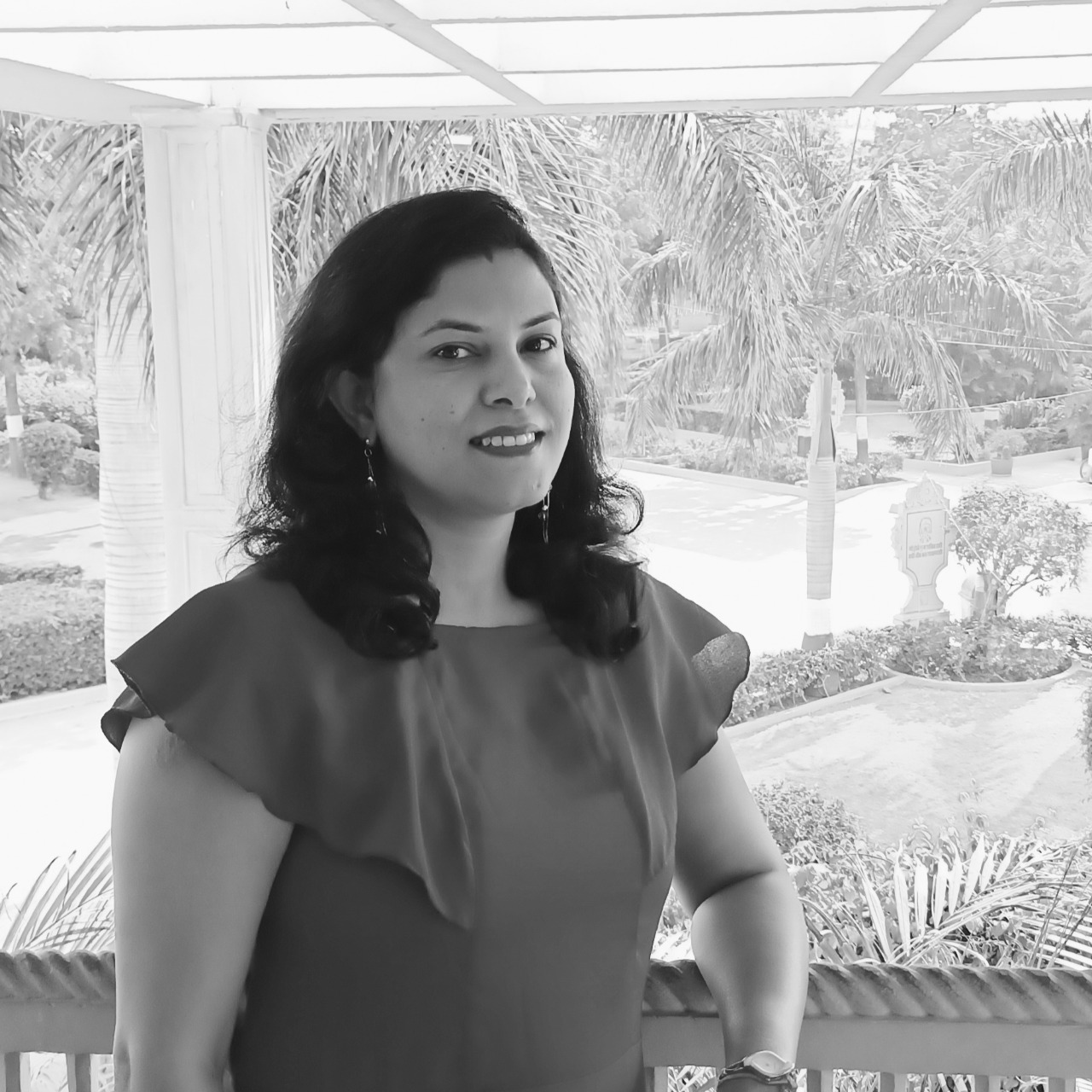 Ruchi Agrawal
Head of Marketing
Management Expert Experience of 12 years.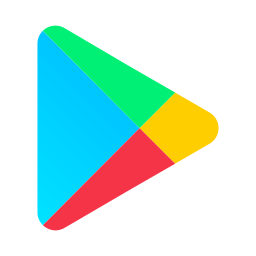 2.9L+
App Installs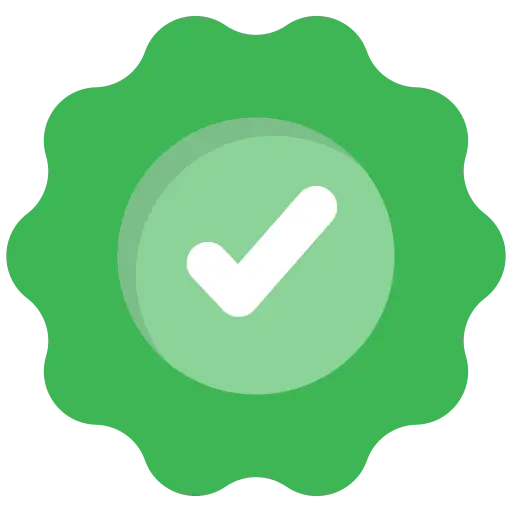 1.4L+
Bookings Served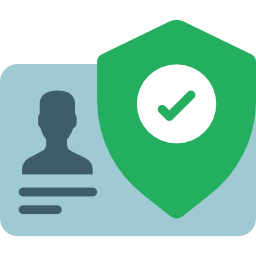 6.8K+
Verified Partners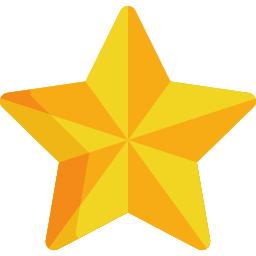 4.4/5
Play Store Rating
Ready to get started?
Check the Videos to Get Details of G7 Available in All Indian Languages Franchise & Partner opportunities.
Complete Transport Solution and To Hire or Attach Vehicles Across India.
How to Attach
How to Attach Vehicles or Join Group of Transporters, Packers & Movers
About G7 Group, truck booking app
How G7 Works, Complete brief Details of App G7 Group and startups.
Franchise Opportunity
Franchise, Partner Opportunity at Low Investment
Happy G7 Clients & Partners
We are thankful for all our awesome testimonials! There are thousands of our happy customers! Let's see what others say about the G7 Group!
India's #1 online truck booking platform.
Find the right Trucks, Transporters, Packer and Movers for your transport Needs. Book Trucks online in just 2 minutes on our transportation marketplace G7 Smart Logistics.
Best for House Shifting, Shop Shifting, Office Shifting, or Any type of Commercial Moving. Fast & Easy Shifting & Moving Service, Truck Rental App. 5% - 30 % Cheaper Packer and Movers, Trucks. 24 * 7 Service across India, Timely Delivery, 18000+ Verified Packers and Mover, Trucks, Transporters & Vendors Group. Customize Service for all Shifting & Moving Needs, Covering All States of India
Anil Daglia
Wonderful Support!
The App is good for connecting with transporters. The only thing which is required is offering documentation for the services provided by the transporters. This will enable a professional approach. Best truck booking app for India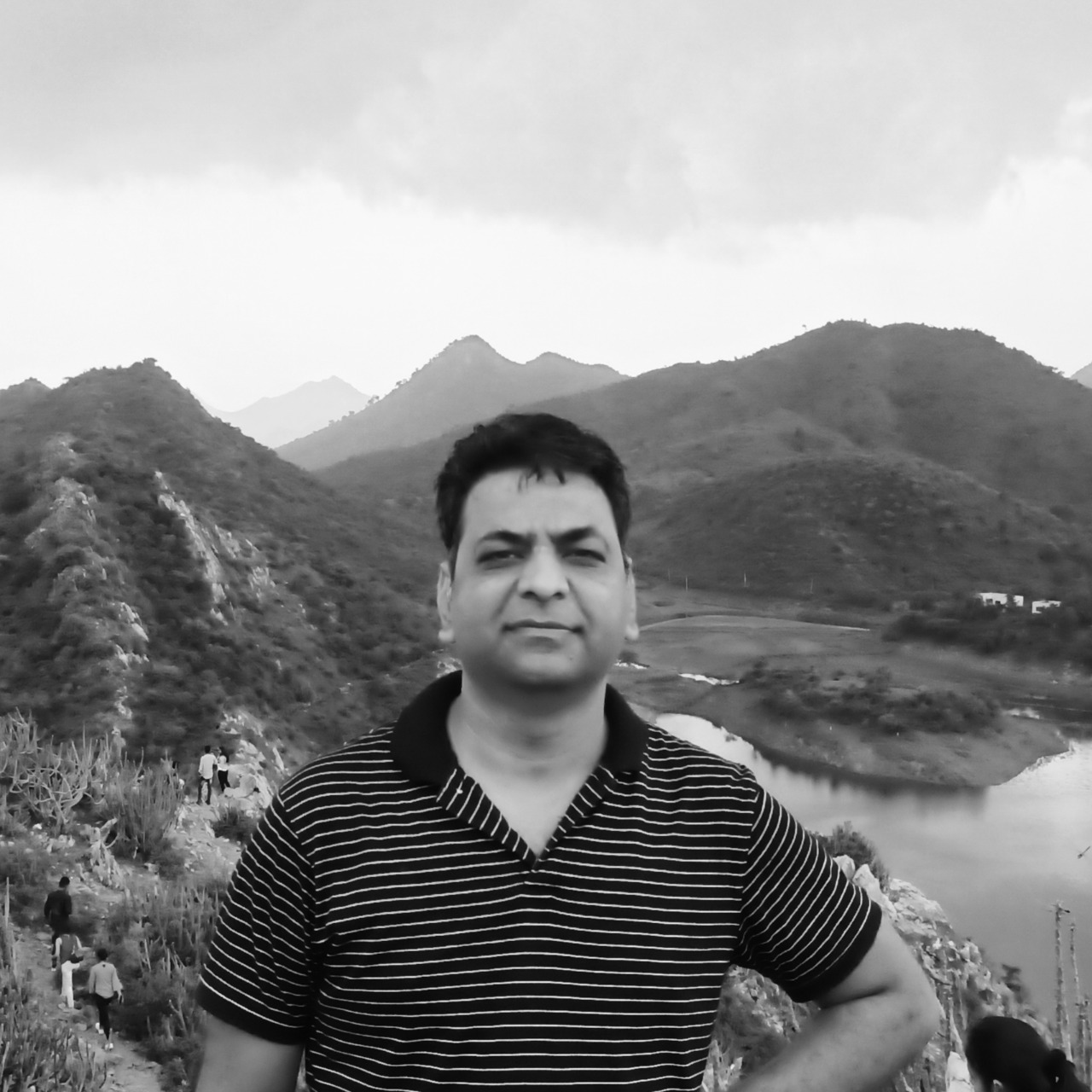 Perfect Packers & Movers
Awesome Service!
I really loved it! It was a rollercoaster ride using this app. Kudos to the young coder! Will recommend it to my friends and family members.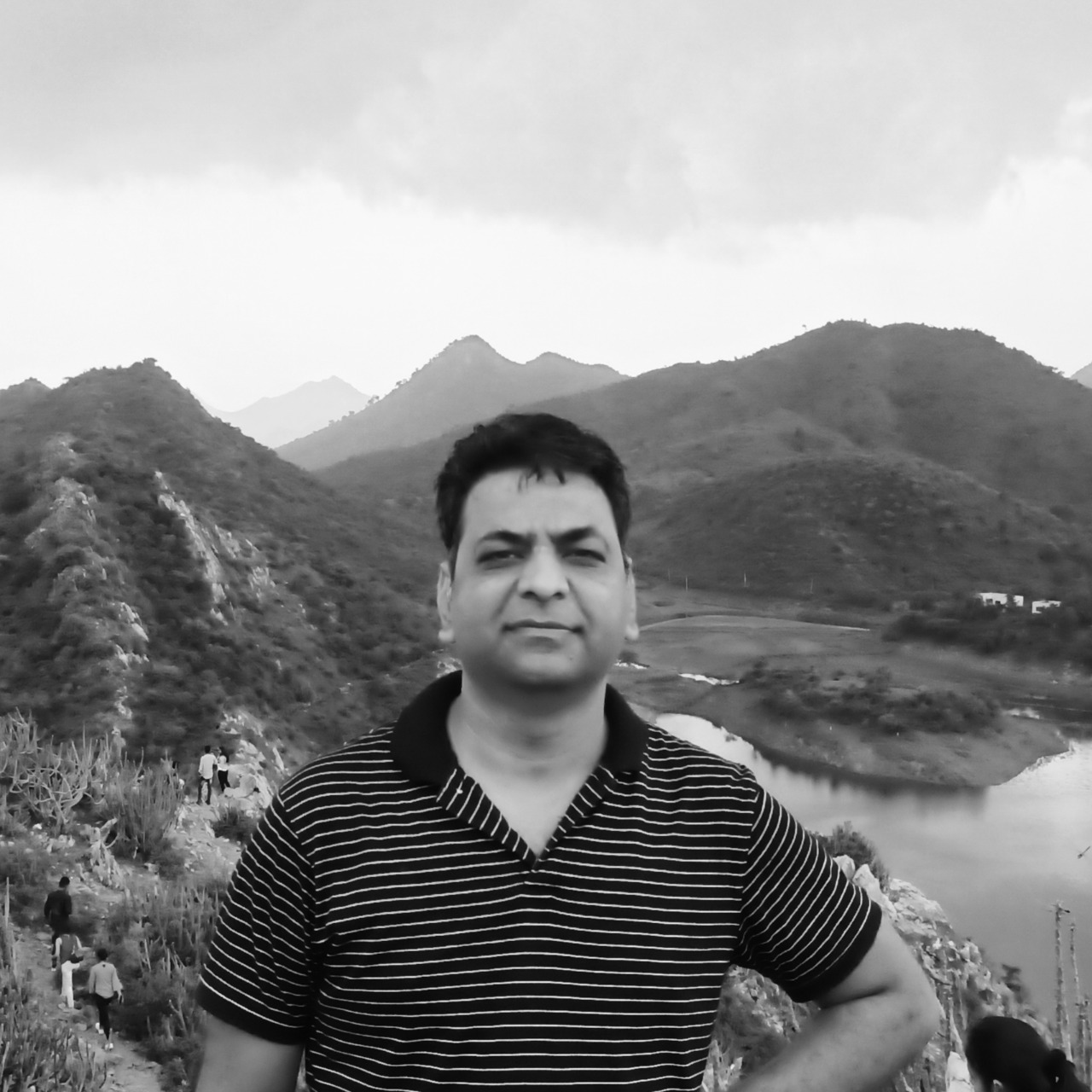 Om Tempo Service
Great & Talented Team!
Got a good deal because of this app. It serves the purpose.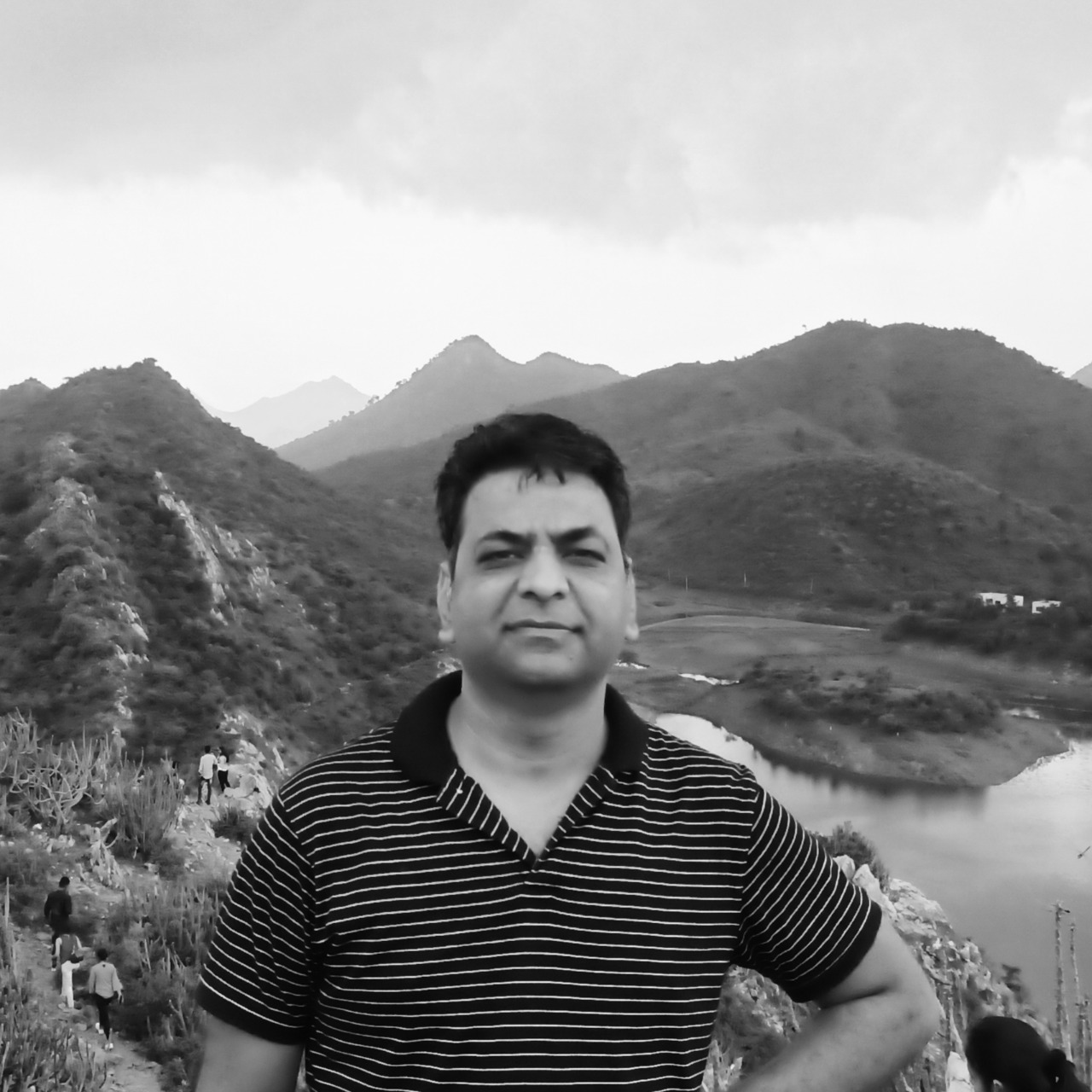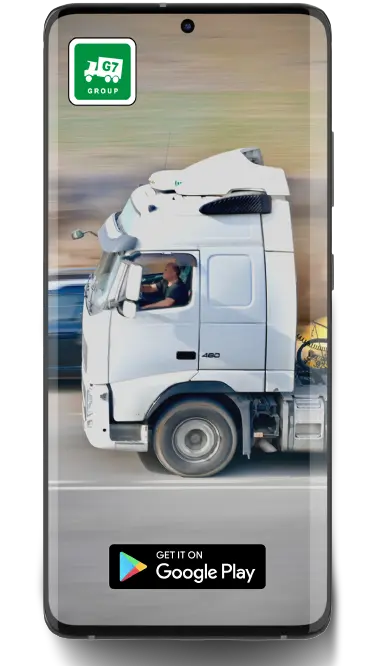 Install the App Now!
We thank all our G7 Verified Partners! There are Thousands of our G7 Happy Clients and Partners! Let's see what others say about the G7 App!
Save 90% of your time with our online Truck booking G7 marketplace!
Booking of Truck, Packers Movers and Transporters booking on G7 is completely free! No commissions, no middlemen, and no hidden fees of G7 for Users and Customers.
G7 Verified Partners also Pay 0% Commissions to G7
Hire, Attach or Book on Rent following Vehicles
Best for all types of Shifting and Moving Requirement, Works across India.
12 TYRE 21-25 Ton
2 Seater
22 TYRE 38-42 Ton
3-4 Wheeler 300Kg - 1 Ton
4 Wheeler 1.5 Ton
4 Wheeler 2.5 Ton
1109
2 Wheeler
2 Wheeler 2 Seater
Ambulance
Ambulance
Ashok Leyland
Ashok Leyland 1616
Ashok Leyland 3118
Ashok Leyland 4923
Ashok Leyland 709
Ashok Leyland 759
Ashok Leyland AL
Ashok Leyland Alpsv Stag
Ashok Leyland Bada Dost
Ashok Leyland Boss
Ashok Leyland Cargo
Ashok Leyland Comet
Ashok Leyland Dost
Ashok Leyland Ecomet
Ashok Leyland FV
Ashok Leyland Guru
Ashok Leyland N 4923
Ashok Leyland Partner
Ashok Leyland stallion
Ashok Leyland Taurus
Ashok Leyland U 2523
Ashok Leyland U 3718
Ashok Leyland U 4019
Ashok Leyland U1619
Ashok Leyland Viking
Atul Auto Elite
Atul Auto Gem
Atul Auto Gemini
Atul Auto Pickup
Atul Auto RoadStar
Atul Auto Shakti
Atul Auto Sigma
Atul Auto Smart
Auto 3 Seater
Bajaj Compact
Bajaj Diesel Mega
Bajaj Maxima
Bajaj Optima
Bharat Benz 1617
Bharat Benz 1623
Bharat Benz 2523
Bharat Benz 2528
Bharat Benz 2823
Bharat Benz 3123
Bharat Benz 3723
Bharat Benz 4023
Bharat Benz 4928
Bharat Benz 5528
Bharat Benz 914
Big Bus 39-54 Seater
Big Truck
Bolero 4 Wheeler 1.5 Ton
Bolero Camper
Bolero Maxi Truck
Bolero Pickup
Brokers & Transporters
Chota Haathi
Container 20 FT 5-10 Ton
Container 20 FT 7-9 Ton
Container 24 FT 7-14 Ton
Container 24 FT 9-14 Ton
Container 32 FT 7-20 Ton
Container 33 FT
Container Above 33 FT
Courier Parcel Delivery
Crane
Dost
Eicher 10.50
Eicher 10.75
Eicher 10.80
Eicher 10.90
Eicher 10.95
Eicher 1049
Eicher 1055
Eicher 1055 Pro
Eicher 1059
Eicher 1059 Pro
Eicher 1075 Pro
Eicher 1095
Eicher 11.1
Eicher 11.12
Eicher 11.14
Eicher 1110
Eicher 15.16
Eicher 17 Ft
Eicher 19Ft
Eicher 20.16
Eicher 2049
Eicher 2059
Eicher 30.25
Eicher 3012
Eicher 3013
Eicher 3016
Bajaj Pickup
Bharat Benz 1014
Bharat Benz 1214
Bharat Benz 1217
Bharat Benz 1414
Eicher 33.25
Eicher 35.31
Eicher 40.40
Eicher 5016
Eicher 5019
Eicher 5025
Eicher 5031
Eicher 5035
Eicher 5040
Eicher 6025
Eicher 6031
Eicher 6035
Eicher 6037
Eicher 6040
Eicher Canter
Eicher Multix
Eicher Pro 1049
Eicher Pro 2049
Eicher Pro 2049 CNG
Eicher Pro 2050
Eicher Truck
Force Motors Kargo King
Force Motors M4
Force Motors Minidoor
Force Motors Tempo Traveller
Force Motors Tempo Trax
Force Motors Toofan
Force Motors Traveller
Force Motors Trax
Force Motors Trump
Hatchback Car 5 Seater
JCB
Luxury Car 5-6 Seater
Mahindra 8275 DI
Mahindra Alfa Load
Mahindra Blazo
Mahindra Bolero
Mahindra Bolero Pickup
Mahindra Bolero Pickup Extra Long
Mahindra Champion Alfa
Mahindra DI 3200
Mahindra Double Cab
Mahindra FJ 460
Mahindra Furio
Mahindra Furio 7 Cargo
Mahindra Genio
Mahindra GIO
Mahindra Imperio
Mahindra Jayo
Mahindra Jeeto
Mahindra King Cab
Mahindra LoadKing Pride
Mahindra LoadKing Super
Mahindra Loading Zoom
Mahindra Max
Mahindra Max Pickup
Mahindra Maxximo
Mahindra MN
Mahindra Optima
Mahindra Scorpio
Mahindra Single
Mahindra Supro
Mahindra Traco
Mahindra Truco
Mahindra Utility
Mahindra Voyager
Maruti Eeco
Maruti Omni
Maruti Super Carry
Mini Bus 16-39 Seater
Piaggio Ape DLX
Piaggio Ape Pickup
Piaggio Cargo
Piaggio Porter
Refrigerator Truck
Sedan Car 4-5 Seater
SUV 6-9 Seater
Swaraj Mazda Chasis
Swaraj Mazda Isuzu
Swaraj Mazda Premium
Swaraj Mazda Sartaz
Swaraj Mazda Super
Swaraj Mazda Trucks
Swaraj Mazda WT
Swaraj Mazda WV26 TC
Tanker
Tata 1210
Tata 1213
Tata 1312
Tata 1510
Tata 1512
Tata 1612
Tata 1613
Tata 1616
Tata 207
Tata 207 DI
Tata 2213
Tata 2515
Tata 2516
Tata 2518
Tata 3118
Tata 407
Tata 407 4 Wheeler 2.5 Ton
Tata 410
Tata 483D
Tata 609g SFC
Tata 610 SFC
Tata 709
Tata 712 Ex
Tata Ace
Tata Intra
Tata LPT 1613
Tata LPT 2818
Tata LPT 3118
Tata LPT 3718
Tata LPT 407
Tata LPT 410
Tata LPT 709
Tata LPT 712
Tata LPT 713
Tata LPT 809
Tata LPT 810
Tata LPT 909
Tata LPT 912
Tata Mobile
Tata Prima 4023
Tata SE
Tata SFC
Tata Signa
Tata SK 1613 TC
Tata Spacio
Tata Sumo
Tata Super Ace
Tata Telco
Tata Ultra
Tata Ultra 1518
Tata Ultra 1918
Tata Winger
Tata Xenon
Tata Xenon
Tata Yodha
Tempo
Tempo Traveller 9-16 Seater
Tempoo 3-4 Wheeler 300Kg - 1 Ton
Tipper
Tippers
Tractor
Trailer Flat Bed 20-50 Ton
Trailer High Bed 20-50 Ton
Trailer Semi Bed 20-50 Ton
Truck 10 TYRE 16 Ton
Truck 10 TYRE 16-20 Ton
Truck 12 TYRE 21 Ton
Truck 12 TYRE 21-25 Ton
Truck 14 FT 4 Ton
Truck 14 TYRE 25-30 Ton
Truck 14 TYRE 26 Ton
Truck 16 TYRE 31-34 Ton
Truck 17 FT 5 Ton
Truck 18 TYRE 27 Ton
Truck 18 TYRE 35-38 Ton
Truck 19 FT 6-9 Ton
Truck 19 FT 7-9 Ton
Truck 22 TYRE 33 Ton
Truck 22 TYRE 38-42 Ton
Truck 6 TYRE 9 Ton
Truck 6 TYRE 9-12 Ton
Trucks
Bajaj Tempo Trax
Bajaj Trax
Eicher 3014
Eicher 3015
साथी बिजनेस का, Packers and Movers App,
Transporters App
Head Office:
D-301, 209, 2nd Floor, Parasmani Complex,
Nada Khada Chowk, Bapu Bazar,
Udaipur (Raj.) - 313001

Time: 10.00 AM - 6.00 PM
Days: Monday - Saturday
---
G7 Smart Logistics
Mobile: +91 7014350720
WhatsApp: +91 7014350720
General Enquiries
khitsinstitute@gmail.com
To Attach Trucks, Tempo's Contact
khitsinstitute@gmail.com
Made with ❤️ in India
G7 is an online trustworthy truck booking platform
and House Shifting App connecting Packers, Movers, transporters, truck owners, Transport and logistics companies. Post your enquiry, attach lorries, book trucks, Packers and Movers or Transporter online.
G7 Smart Logistics
is leading transport and logistics service provider delivering customized and economical online
transportation and Logistics solutions
with just a simple click on your mobile. We offers an
advanced and cheaper way
to book a truck quickly without moving out from your house, office, Shop or factory.
G7 Smart Logistics
[Packers and Movers App,
Transporters App]
For All Your Shifting &
Moving Needs
[ BOOK / HIRE ]
TO GROW YOUR BUSINESS
[ ATTACH / JOIN ]